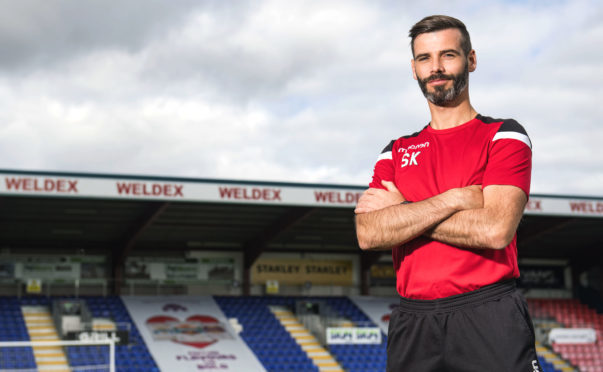 Ross County co-manager Stuart Kettlewell has warned his players there will be no prizes handed out for ending the opening round of Championship fixtures at the top of the table.
The Staggies' haul of 20 points from their first nine games has taken them to the league summit, a point clear of second placed Ayr United, with Morton the visitors to Victoria Park tomorrow.
Kettlewell says the Staggies must not allow complacency to set in, insisting they must look to further increase their standards for the remaining 27 league matches in order to secure top honours.
Kettlewell said: "We are always going to try and challenge ourselves. With the group of people we work with here, that's what makes it enjoyable.
"I don't think anybody just rests on their laurels, nobody just sits still and becomes stagnant.
"We all want to improve and get better, and I know it's probably easy for me to sit here and say that. But that is the challenge. That's how success comes about.
"It doesn't come about through people sitting and admiring the fact they are top of the league after the first quarter. It's the ones that want to push the boundaries.
"In the next quarter, can we get more than 20 points? That's the challenge, and if we do we will be in a decent position then as well."
While Kettlewell has been encouraged by the Staggies' start to the campaign, he feels there is room for improvement in the squad assembled by he and fellow co-manager Steven Ferguson following the Dingwall club's relegation from the Premiership last season.
Kettlewell added: "We want to be sitting top of the league at any stage of the season.
"Everybody will tell you we don't look at the league table, but ultimately if it's the first game of the season you still want to be the team that's scored the most goals and sitting with three points.
"If it's the last game of the season, we know the significance is you get handed a medal and promotion off the back of it.
"I don't think it's overly significant in that nothing happens at this stage, it's how we build on that and develop from this point.
"If you're asking me if I would rather be here than mid-table or bottom, it goes without saying.
"There are a lot of aspects of how we've gone about our business in the first quarter that we really like, but the exciting bit for us and the players is that we feel there's room for growth.
"We think we can develop and improve on various aspects."