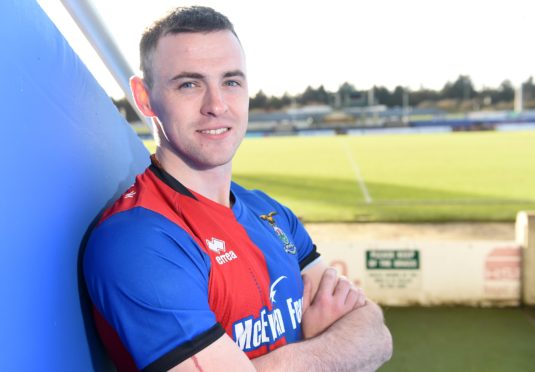 Caley Thistle winger Darren McCauley hopes his new club can reap the rewards of his determination to grasp his second opportunity at playing full-time football.
McCauley last week joined Inverness on a two-and-a-half year deal from Northern Irish side Coleraine, ending an eight-year spell of playing semi-professional football in his homeland.
McCauley dropped out of the the full-time ranks after leaving hometown club Derry City, after struggling to deal with his release by Celtic following a six-month stint at Parkhead as an 18-year-old, during which time he played alongside the likes of James Forrest, James Keatings and Richie Towell.
Having earned another professional opportunity with Caley Jags, McCauley aims to make the most of it, with the winger revealing he sought the advice of fellow countrymen Jonny Tuffey and Curtis Allen who previously played for Caley Jags.
He said: "It is absolutely the most difficult time, that period when you come back home after being let go by a full-time club. It is probably the most vital time for a young player.
"If you don't have someone guiding you, who has been through that experience, it is very difficult.
"I took it bad – I was very disillusioned and felt very negative about football. I was very unsure of what I wanted.
"Maybe it is because you are training in such a good set-up and around these so-called superstars, it is a fall from grace, I suppose.
"You need to have a strong mentality and rediscover the love of playing.
"I had a period out of game. I came home and signed for Derry City, training full-time, so it was great to have that.
"To look back, I've worked really hard. I've worked in so many jobs outside of football, it has given me that experience.
"I know what it is like in different work-places and it is a really healthy position to be in now, at 27, to be doing this. I'm really proud and hopefully I can make an impact at Inverness."
McCauley, who will finish his degree in nutrition at University of Ulster in the coming weeks, insists Caley Jags boss John Robertson has assured him he will be given time to find his feet at Championship level.
The 27-year-old, who could make his first start in tonight's trip to Ayr United, added: "To be honest, I'm not too sure what to expect because I haven't seen the teams play before or been to the stadiums.
"It's all new to me. It doesn't faze me to be honest – I don't care if they're top or bottom. I'm going to treat it the same and try to make an impact, should I play or come on.
"My focus is just on playing well, regardless of who it is against. I'll just embrace it.
"It is quite a healthy outlook because, as a player, you can have all these preconceptions from past experiences. It is all fresh and new to me – and I can't wait.
"I think it is going to be a capable transition for me. It is going to be hard but I feel as if I can do it.
"Coming on against Falkirk on Saturday, I felt comfortable technically. The fitness will come.
"But in terms of the level, I feel as if I can do it, without a doubt.
"The manager thinks that way as well. To have his backing and know where I stand – he has said it is going to take time and he will give me space and patience to adjust – that's a comfortable position as a player to be in."