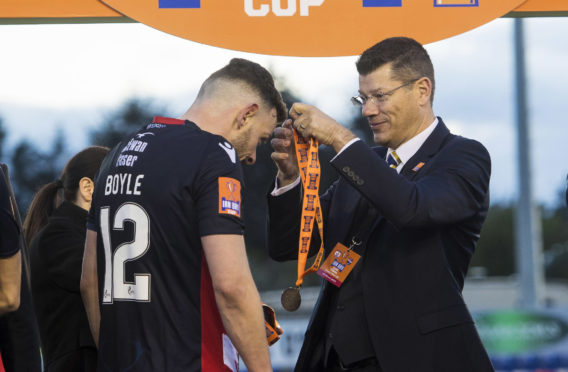 Ross County will not offer defender Andy Boyle a permanent contract following his loan stint from English Championship side Preston North End.
Irishman Boyle played 15 games for the Staggies after joining in January, having spent a temporary spell with Premiership outfit Dundee earlier in the campaign.
Boyle is now a free agent following the end of his Deepdale contract and although the 28-year-old played a prominent role in County's double-winning haul of the Championship title and the IRN-BRU Cup in the latter part of the campaign, Staggies co-manager Stuart Kettlewell says there will be no deal on the table.
Boyle said: "Andy's loan deal has finished.
"Andy was brilliant for us last season, but we've invested in defenders who are under contract for next season so the budget didn't allow us to offer Andy a deal.
"He was great for us, coming in at a really important time and slotting in superbly.
"His professionalism and how he went about his business at the football club was tremendous.
"It isn't easy for us to let go of someone who contributed so much to what we did. Andy is out of contract at Preston as well.
"We've had a chat with him and he will now move on."
Youngsters Russell Dingwall, Greg Morrison, Ross MacIver and Ben Johnstone will also leave the Staggies.
Kettlewell and fellow co-manager Steven Ferguson held talks with County's squad last week following the end of their Championship-winning campaign.
Although Kettlewell has already expressed his desire to keep the bulk of County's squad intact ahead of the new Premiership campaign, he is wary that interest from other clubs could tempt players away from Victoria Park.
Kettlewell added: "It was probably easier last summer, in all honesty, considering there had to be huge change and quite a big turnaround in what we were doing.
"I probably foresee it being slightly different this summer and a bit of a challenge making sure we're good to go next season.
"For obvious reasons, there will probably be a couple players earmarked by other clubs.
"Then, it is just about making sure we keep the nucleus together of what's been successful.
"Ideally for us there are a host of guys we'd like to keep. They have been a big part of what we've done this season. Time will tell how that pans out.
"We've still got a lot of guys under contract and there's quite a few guys out of contract as well.
"All the players know where they stand and what the club wants to do going forward. We tried to outline that the best we possibly could last week.
"After that last game, everybody went away with a clear knowledge of what the club's intention was for them."