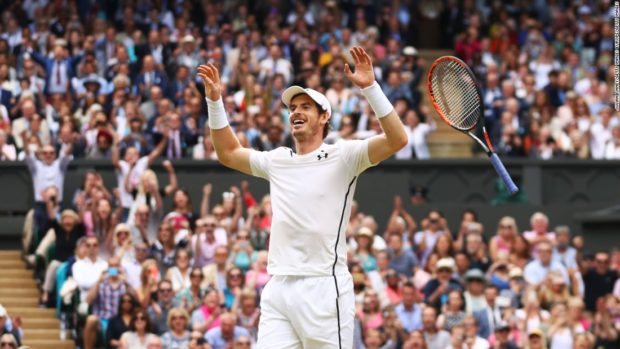 There may be some people who wonder why Andy Murray keeps putting his body through the wringer.
After winning three Grand Slam titles, a brace of Olympic gold medals and leading Britain to Davis Cup success, the 33-year-old Scot has suffered a plethora of serious injury concerns and been on the brink of retirement since 2018. Yet, even while many other players have taken the decision not to travel to America, Murray is preparing himself for a crack at the US Open which begins at Flushing Meadows next week.
It might be asking too much for him to be a genuine contender, but there again, his whole career is a testimony to confounding sceptics and blazing his own trail.
Even though he was forced to miss the first three months of the new season due to a pelvic injury stemming from complications with his replaced hip – and he only returned to action just as Covid-19 forced a global lockdown – Murray showed he still has his old drive, desire and determination when he defeated world No 7 Alexander Zverev in the second round of the Western & Southern Open in the Big Apple On Monday night.
The match was a gruelling battle, but despite losing the second set and having to deal with his much younger opponent serving for the match in the decider, the steely fashion in which Murray upped the ante and regained the initiative to triumph 7-5 at the denouement was a reminder of his prodigious powers.
The contest offered another motivation for this redoubtable character: he loves New York, is in his element at the famous arena, and has never forgotten the incredible adrenaline surge which reverberated around the world when he secured his first major here back in 2012.
I still remember him telling me how he was in thrall to the feverish atmosphere at this tournament, which he regards as being more akin to a boxing bout than a genteel occasion for Pimms and strawberries and cream.
And while Murray has admitted his difficulties in adapting to the sound of silence – in a venue without spectators – he clearly feels relaxed, was moving wonderfully well against Zverev and recognises he has absolutely nothing to lose in the next few weeks.
He has been practicing with Dominic Thiem and the Russian, Karen Khachanov since arriving in America, and is fully aware he needs to increase his intensity. As he said: "These guys don't hold back and it's a different speed to what I have been used to lately.
"But I feel good on the court, in terms of my hip and, physically, I'm fine. I wanted to get to the US Open feeling pain free and enjoy a Grand Slam again.
"I've missed it a lot, the situation I've been in the last few years. I've just not had the opportunity to play in many slams. And I don't know how many I'll have left."
He will be bolstered by the absence of Roger Federer and Rafael Nadal and the controversy surrounding Novak Djokovic, following the latter so staging of an event which led to several players contracting coronavirus. And a slew of other stars, including Nick Kyrgios and Ashleigh Barty, have ruled themselves out of participating in New York, a city which has shown little sign of checking the spread of Covid-19.
There's no doubt this will be a surreal occasion for those who have joined the tennis bubble. But it definitely offers somebody of Murray's class the chance to go deep. And, of course, if he requires any further inspiration, just look at the fashion in which Tiger Woods transcended all manner of injury travails to triumph at the US Masters in 2019.
That has been described as the greatest comeback in sporting history and it deserves such a description. Yet if Murray can remain fit and healthy – and receives a favourable draw – who would dismiss his prospects of surging back into the stratosphere?
There is also the little matter, in the women's singles, of whether Serena Williams can finally complete her bid to land a record-equalling 24th Grand Slam title – and, in her case, the absence of fans might actually prove a blessing for the 38-year-old, who has lost her last four finals while aiming to match the number won by Margaret Court.
As with their male counterparts, a significant contingent of the leading performers are not playing because of safety and travel concerns, but that won't devalue the event, once the action commences on August 31. There will still be seven rounds for anybody to tackle before they can claim the spoils.
Ultimately, it's another small step on an arduous road out of adversity in painful circumstances. And nobody on the ATP tour knows more about that than Andy Murray.