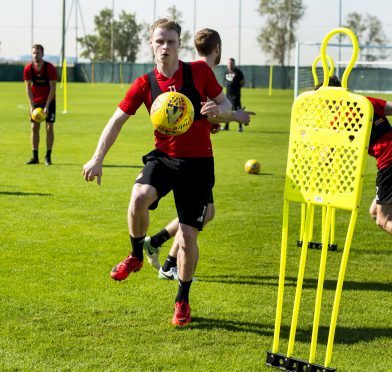 Aberdeen midfielder Gary Mackay-Steven knows exactly what team-mate Ryan Christie is experiencing.
Last summer he was facing a big decision: whether to continue to fight for his place with league champions Celtic or take the plunge and look elsewhere for first-team football.
The move to Pittodrie has proved a wise decision for Mackay-Steven but he does not feel he needs to offer advice to Christie.
The former Caley Thistle midfielder has been a revelation since returning to Pittodrie for a second loan spell in the summer and could arguably have his pick of suitors come the end of his temporary deal with the Dons.
The Aberdeen supporters would love Christie to stay beyond the end of the season and Derek McInnes said if he were to get any encouragement that a permanent deal would be possible, he would be keen to explore it.
https://www.pressandjournal.co.uk/fp/sport/football/aberdeen-fc/1391219/mcinnes-maintains-hope-landing-ryan-christie-permanent-deal
Mackay-Steven believes if the Scotland cap maintains his current form then his future will sort itself out.
He said: "I don't need to tell Ryan anything. It's literally just go back and perform as best you can. Work as hard as you can every session and never have any self-doubt.
"Ryan has shown he has great ability and, if you always have confidence in that and you play freely, you know that it will come out. Whatever he decides to do, he'll be just fine and show what a good player that he is.
"Selfishly, you want to be playing with good players and Ryan is great. Of course, we'd all love him to stick around but it's entirely his opportunity and his decision. I'm sure he'll do well whatever he decides.
"You don't think like you are going back and you are not going to play, you think positively all the time. Every time you get a chance to impress, then impress. Ryan has come to Aberdeen and done great. Long may it continue for him and it'll be his decision in the summer."
Six months ago Mackay-Steven was at a cross-roads of his own and felt the merits of a campaign under McInnes and the opportunity of regular football outweighed the risks of leaving Parkhead.
He has begun to repay that faith shown in him with five goals in 22 games, including a hat-trick in the 4-1 demolition of Hibernian last month. The Thurso-born winger has no regrets about cutting his time with Celtic short and thinks his decision has been the right one.
Mackay-Steven said: "I could have stayed but it was frustration, not bitterness or self-doubt. I felt I was more than good enough but when the manager has a starting 11 and you know the team is doing so well, it's hard.
"I don't want to be feeling that I'm doing well in training through week and then not getting a chance of the weekend. It's a short career, so you want to be playing and you find your rhythm and best form with a run of games.
"The manager got in touch here and I owe him a lot because I jumped at it, really. I knew Aberdeen had been on the up in the last few years and he had been a big part of that, putting together a great squad here and I wanted to be part of that and come and challenge. I felt I could come and be on that rise with Aberdeen.
"I feel I'm at a club now where I've been given that great opportunity by the manager. It's all about playing on a Saturday and showing yourself, so it's onwards and upwards for me."
Even though he only made fleeting appearances under Brendan Rodgers as Celtic charged to a domestic treble last season, Mackay-Steven considers it a worthwhile experience.
He said: "I felt even the year I wasn't playing under Brendan after I came back from injury, I still learned a lot in training. He was an unbelievable manager with attention to detail and tactics. It was a great place to be, a great club, I loved my time there.
"I had an operation at the end of that year which I needed but that meant I missed all of the next pre-season. When Brendan came in, it was tough to get back in when the team had started pre-season with new ideas and new tactics and the new manager's philosophy.
"The rest of the players were quite far ahead of me and it was difficult to get back. The team went unbeaten all season, so there were factors. I didn't leave thinking I didn't give it everything, I did."