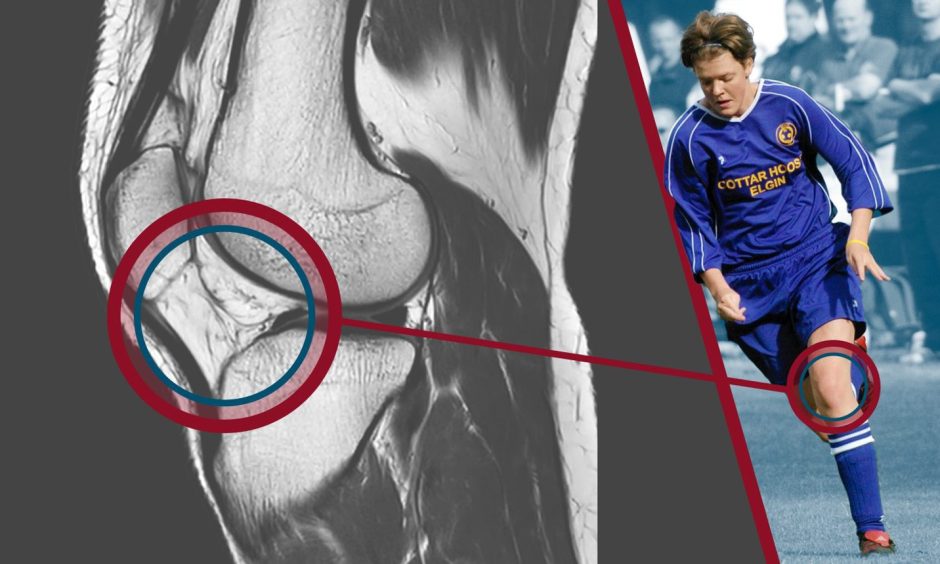 Karen Mason's coaching journey started prematurely after an ACL injury cut her playing career short.
Mason, who is the current Caley Thistle Women manager, first sustained an injury to the anterior cruciate ligament in her right knee in July 2011 while playing for Inverness City.
It was a non-contact injury which saw her sidelined with damage to her ACL, meniscus and a ruptured medial collateral ligament (MCL).
Most players will go their entire career without suffering an injury like Mason did that day against Glasgow City, but she suffered the misfortune of experiencing it again.
After getting herself back fit and returning to playing in February 2012, barely two months later Mason fully ruptured her ACL in the same knee in a match against Spartans.
Memory of ACL injury pain still fresh years later
It was an all too familiar feeling and one Mason can still recall vividly to this day, 12 years later.
"I'd never really had a proper injury before and if I did hurt myself in a game I'd be back up and just run it off," said Mason.
"The one against Glasgow City I was in absolute agony and the pain still haunts me to this day. You hear the crack, the snap and the pop, so you just know.
"I was in excruciating pain. I knew it was a bad one.
"And then having gone through it already, when it happened again against Spartans, I knew my knee had gone."
That's where, Mason says, "my story ends" – as she was forced to hang up her playing boots aged only 23 and soon took up a role as coach on the team.
Karen Mason not offered reconstructive surgery for ACL rupture
She had keyhole surgery in October 2013 to tidy up the damage to her meniscus but was told by doctors that it would be too big a risk to play again.
And rather than being offered reconstruction surgery on her ACL, the advice she was given at the time was to strengthen the other muscles in her legs and to do without her ACL.
Mason felt ignored and confused, as she recalled: "How can a person as active as I was go without it?"
The former Inverness captain is not just an active participant in club sport, but it was her livelihood as she worked, and still works, as a PE teacher at Inverness Royal Academy.
Not being offered reconstruction surgery around the time the injury first occurred – or even in 2013 when she got keyhole surgery – impacted Mason's quality of life for the next four years.
I eventually got my ACL reconstructed and that was only after my knee had been giving away all the time. I realised I couldn't keep living like that.
"Working as a PE teacher, I was still continuously having problems with it," said Mason.
"Come 2016, I eventually got my ACL reconstructed and that was only after my knee had been giving away all the time. I realised that I couldn't keep living like that.
"It could be something silly like jumping up to demonstrate something to the kids and landing on two feet would mean my knee would go and with that came all the pain, the swelling and not being able to walk properly for three to four weeks.
"I was totally fed up at that point, so finally I got the surgery."
Eventual surgery left questions over initial treatment
The long road towards recovery often left Mason thinking: "What if?"
Would she have been able to get back to playing if she had been offered the right surgery when the injury first happened? Would she have been experienced the delay if she was a male footballer?
One thing she did know for sure is she should not have had to endure so much pain for as long as she did.
"I do still think what if I had had that surgery done in 2012, instead of 2016?" said Mason.
"That could have been four years I might have got back of playing and living with less daily pain.
"I look at men's teams and, if they get injured, they have a scan the same day and probably have surgery soon after.
"For me, I did get an orthopaedic appointment quite soon, but then you wait another 10 weeks for a scan, and then you wait another 10 weeks for an appointment.
"It was just constantly waiting and waiting – I think that's what killed me throughout it all as well."
Caley Thistle Women coaching role bittersweet for Mason in early days
The transition into coaching also had its difficulties.
Mason admits to sometimes feeling frustrated as she was still of an age where she could have, and should have, been playing.
"The team and the club meant so much to me that when I got it handed on to me it was a responsibility I felt willing and ready to take on," explained Mason.
"At times I admit I did get really frustrated – I thought: 'I could be doing that better.'
"But I hope that didn't reflect on the players. It was just because I couldn't be out there playing myself.
"It was probably more frustration that people wouldn't be at training or wouldn't turn up to games, and I just thought: 'If that was me, I would be doing that differently.'"
'I have had three girls who have done their ACLs since I've been a coach and I feel almost powerless'
Mason's experience of suffering an ACL injury left her feeling ignored and ultimately let down, and as a coach she feels somewhat helpless when it happens to her players.
"For us, I can't – and we don't have the resources to – provide the medical side of things," said Mason.
"It's all reliant on the NHS.
"I have had three girls who have done their ACLs since I've been a coach and I feel almost powerless because I can't push for waiting lists to go quicker and I can't push for them to get their scans and appointments.
"I feel so bad – and I wish I had the power and privilege to get them what they needed to recover quickly.
"But unfortunately, with the way it is at grassroots and in women's football, it's just not something that I can support (them with) and that does hurt."
Mason 'would 100% try as best as we could to implement' prevention tactics
ACL injuries have been described as endemic in the women's game and Mason believes the situation is currently at a crisis point across all levels of the game.
"Any information would help," said Mason. "Knowledge is power at the end of the day.
"There are certain things that may be out with my control like training on an astroturf pitch might be a factor – but it's the only resource we've got.
"But anyone would be stupid to not take the information on board and use it to their advantage and protect the welfare of their players.
"I would 100% try as best as we could to implement anything we were recommended on.
"But, at our level and without any funding or support in that sense, certain things would be out of our reach."
Excruciating pain, waiting lists, and the need for more research: North footballers reveal ACL horror stories amid injury crisis in women's game