US talk show host Jimmy Kimmel says he was "very intent on retiring" prior to the start of the Hollywood writers strike.
The comedian and host said he had been "very serious" about retirement, but had since realised it was "kind of nice" to work.
Kimmel made the remarks during the first episode of podcast Strike Force Five, which launched on Wednesday.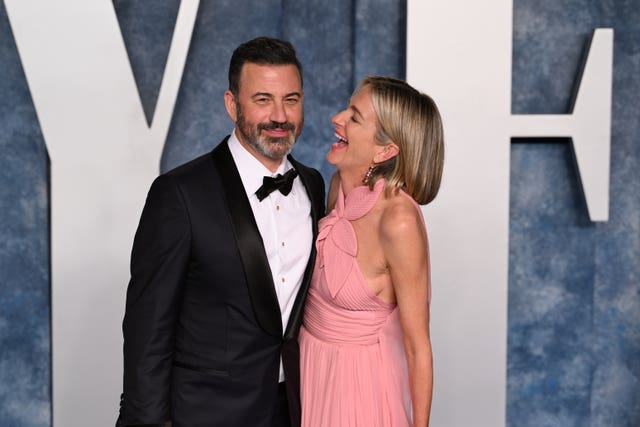 The show features input from five US late-night talk show hosts – Kimmel, Jimmy Fallon, Stephen Colbert, Seth Meyers and John Oliver.
Strike Force Five – named after the hosts' text chain – is in support of striking Hollywood writers.
All proceeds from the show will support their staff as the Writers Guild of America (WGA) strike heads toward its fifth month.
On episode one the hosts discussed their activities since the work stoppage and shared various anecdotes.
"Are you guys getting stir crazy? Are you ready to go back to work?" Kimmel asked.
"Because as you know, I was very intent on retiring right around the time where the strike started. And now I realised, like 'Oh yeah, it's kind of nice to work'."
Meyers replied: "Kimmel, c'mon, you are the Tom Brady of late night… you have feigned retirement."
"I was serious, I was very, very serious," Kimmel responded.
Elsewhere on the podcast, the hosts paid tribute to their staff directly with Meyers saying: "Over the course of this podcast… I think you're really going to feel their absence while you listen to the five of us talk without their help.
Colbert added: "Researchers for sure, because really, no one's fact checking anything we say.
"Their absence will be felt and you realise how important it is for us to take care of them because they are all really amazing."
Strike Force Five was born out of an idea by Colbert for a Zoom call to discuss the strike.
More than 11,500 members of the WGA have been on strike since May 2 over issues including pay and the threat of artificial intelligence.
Last week WGA negotiators said a counter offer by the representatives of major Hollywood studios was "neither nothing nor nearly enough".
The union said it "will continue to advocate for proposals that fully address our issues rather than accept half measures".