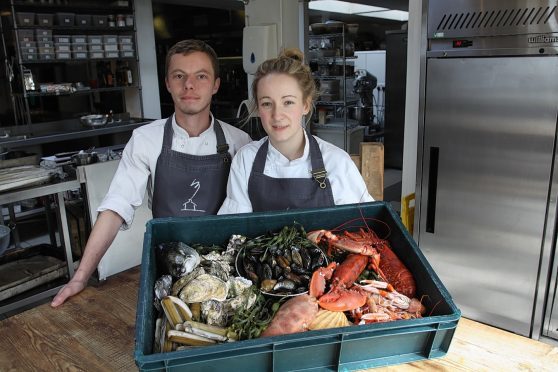 Two of the kitchen team at award-winning Skye restaurant The Three Chimneys are serving produce from Scottish waters at the world's biggest seafood show in Brussels.
Senior sous chef Paul Fettes and demi-chef de partie Emma McMurray are manning the popular seafood bar in the Scottish pavilion at Seafood Expo Global, which got under way on Tuesday and ends today.
The pair were chosen for the event by Edinburgh-based chef and upmarket caterer John Watret, who met them during a stint at The Three Chimneys last year.
Shirley Spear, who owns the world-renowned restaurant at Colbost, said: "He has huge experience of organising this type of large-scale event and was keen to give some of our chefs the opportunity to work with him to gain wider career experience.
"I was proud to give him our backing with this project as seafood has featured on our menu for over 30 years.
"I am sure Paul and Emma will gain a great deal personally from the whole experience."
Mr Fettes said: "It is great to be showcasing the high standard of Scottish seafood and to highlight the quality of the ingredients Scottish chefs are able to work with."
Ms McMurray added: "Working at an event like this is a whole new experience for me. I will learn a lot about producing food for such a large number of people."
Thousands of trade buyers, suppliers, media and other seafood professionals from around the world are at the expo.
Alban Denton, managing director at Scottish exhibitor Loch Duart said security was "visibly tighter" after the recent terror attacks in Belgium.
He added: "Security checks are frequent and diligent but smooth and speedy, with no delays.
"While comments have been expressed by some that the show corridors are slightly less crowded than in previous years, the quality of the visitors and our meetings is as high, if not higher, than in recent years."