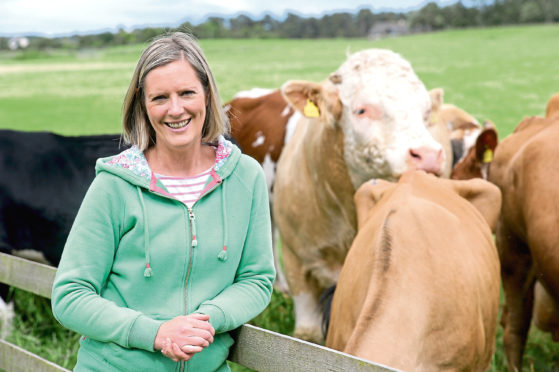 Regular readers will know October is a favourite month at Rootfield as we are enchanted by the magic of Halloween.
This year more than ever with all the change and restrictions the children have had to endure, I see no reason not to celebrate the entire month with decorations, Halloween art and crafts and dressing up, as well as spooky films and magical stories.
Unfortunately, albeit sensibly in light of the pandemic, traditional guising looks unlikely this year. In recognition of this, however, the girls and their friends will go to school and nursery in costume and experience some ghoulish fun, including a pumpkin lantern and spooky spider competition.
Daisy's class was also lucky to have a day of Harry Potter-themed learning just before the tattie holidays, making Nick and I grateful for the ongoing commitment the teachers and all the support staff show to the health and wellbeing of our daughters during an unsettling time in all young people's lives.
Happily, too, enterprising farms across the country are still running annual pumpkin picking events, including Loch Ness Pumpkins near us and originators Arnprior Farm in Stirlingshire. Outside activities have become more important than ever in the current climate.
A favourite new cafe of ours, the eco-conscious Coffee Bothy at the Smiddy in Contin, is also embracing the season with a haunted house walk-through in the run-up to and including Halloween.
Alongside their usual traditional pies and sausage rolls, warming soups, delicious tattie scone wraps, home baking and artisan coffee (made with our very own milk), the "Spooking of the Smiddy" will feature a dress-up competition, complimentary witches' brew and toffee apples with donations collected for Diabetes UK.
While it may be all pumpkins and witches for us this month, October is not quite as magical for Nick on the farm.
With the harvest stored safe and dry inside the top shed, the rest of this month is all about getting ready for winter.
Fences and gates need to be checked and fixed for the arrival of my father-in-law's sheep and the main cattle shed and stalls are being repaired, deep cleaned and limed before the rest of the herd is moved inside.
On the ice cream and milk processing front, seasonal flavours are starting to come into stock – both in trade outlets, including my brother John's new cafe venture, Cup and Cone in the Crown neighbourhood of Inverness, and from the farm honesty shed.
The new chilled vending machine will not arrive until well into next month, which is later than we'd expected, but as we are yet to have the new "shop" in which to house it built yet, the timing is probably going to be just right.
In the meantime, Nick has been doing his bit to promote the business and farming by speaking to food writer and broadcaster Ghillie Basan with the hope of the business and our products featuring in Ghillie's new book, Taste Of The Scottish Highlands.
He has also participated in a podcast series as part of a forward-thinking initiative called the Highland Good Food Conversation, which aims to create a sustainable local food system.
Stage one of the three-phase initiative was designed to stimulate online conversation with a variety of people working in the food sector to generate ideas and actions. Stage two is to host an online conference with key influencers and the final stage is to take action to improve the food system in the Highlands for all.
Find out more and listen to Nick's contribution at highlandgoodfood.scot
Jo lives at Rootfield Farm in the Black Isle with her husband Nick, their daughters Daisy and Mollie and 120 cows.