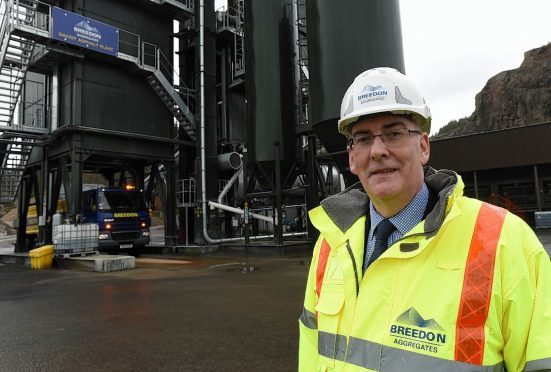 Highland businessman Alan Mackenzie, a self-confessed asphalt enthusiast, has overseen a period of rapid expansion for Breedon Aggregates in Scotland.
And at the turn of the year the pace of that growth has cranked up at Breedon, which had been called Ennstone until 2010, when it came under new ownership.
The last three months have been punctuated by major announcements, including plans to acquire rival Hope Construction Materials for £336million, and multi-million pound contracts to supply building materials for the Aberdeen city bypass and the A9 Inverness to Perth dualling.
Speaking on Friday, the day Breedon unveiled a new £2.2million asphalt plant at a quarry just south of Inverness, Mr Mackenzie said: "It's been a really exciting five years. I'm proud of what we have achieved and I'm proud of my team. They're a really great bunch of people."
"We've been able to grow because we're nimble. The board gives us freedom to make decisions quickly. We also try to differentiate ourselves from major global aggregates companies and give customers a good service. We're prepared to put investment in to do that."
Indeed, Breedon's decision to go in on the supply contract for the Aberdeen bypass as part of a joint venture with Northern Irish firm Whitemountain was driven by a desire to make sure it has enough resources for its entire north-east client base.
Breedon's growth has not gone completely unchecked, however, as the UK's anti-monopoly watchdog intervened to force the company to give up properties following its takeover of Aggregate Industries UK's Scottish assets.
The Competition and Markets Authority (CMA) is expected to do so again in the case of the Hope acquisition due to an overlap in concrete plant operations.
Mr Mackenzie, 54, said such interventions come with the territory for firms that are geared towards expansion.
He said: "In terms of the CMA, it's just a regulatory process to make sure you don't have total dominance. It's just one of those things you've got to go through."
Dingwall-born Mr Mackenzie is in his second stint at Breedon, having first joined at the start of the century for a brief period.
He arrived at the company from building materials firm Tarmac, for whom he worked as contracting director from 1995-2001.
The role saw Mr Mackenzie and his family relocate to the midlands and gave him a chance to get involved in projects like the Birmingham relief road.
But the family did not settle in England and when Mr Mackenzie was given a chance to return north of the border with Ennstone, he jumped at it.
Mr Mackenzie had cut his teeth in Scotland with construction firm Wimpey, where he served his time as a commercial management trainee before being given responsibility contracts such as the resurfacing of Forth Road Bridge and the runway at Edinburgh Airport.
After a short spell at Breedon, then named Ennstone, Mr Mackenzie moved onto the chief executive role at Bear Scotland, which manages the north-east and north-west trunk road networks on behalf of Transport Scotland.
Mr Mackenzie, who has two daughters, said: "I went in to sort it out. I was asked to get into it for eight weeks until someone else could be found to run it. I ended up being there for four years and turned it into a successful business in its own right.
"The main problem at Bear was the lack of staff. It had just gone from being a local authority to a private consortium at that time. There were not enough engineers in the business – it needed a big recruitment drive.
"I also got in the right management team, replacing some of the team I inherited with stronger people.
"It was the most challenging four years of my career but it was rewarding to see it turn into a very good company. I'm still on the board of Bear Scotland today and I'm very proud of it."
Mr Mackenzie returned to Ennstone in 2006 as chief executive for Scotland, a position he retained following the launch of Breedon.
From relatively modest beginnings, Breedon's Dundee-based Scottish division has grown to operate 38 quarries, 17 asphalt plants and 36 ready-mix concrete plants, directly employing more than 700 people.
It also sponsors the Highland League Cup football.
Mr Mackenzie, a Ross County supporter, said: "We've supported that for last four years. That's rewarding because most teams in the Highland League are close to our sites, so it's nice to be able to support it. I try to get to as many cup games as possible. I really enjoy it. At that level it's all about volunteering and giving up your time."
As well as his maintaining his position at Breedon Scotland, Mr Mackenzie also holds down the chairmanship of the Asphalt Industry Alliance.
Mr Mackenzie said: "I try to do my bit for the industry by helping it portray itself in the right way and helping the industry get better at what it does. It takes up time but you make time for it."
His positions also put him in a good position to assess the state of Scotland's roads, though he is not overly positive on that score.
A recent report by the Institute of Civil Engineers put the cost of Scotland's backlog at £2billion and recommended that tolls should be considered to provide additional funding.
Mr Mackenzie, who lives in Forres, said: "A lot of money is being invested in local authority roads and on motorways and trunk roads in England and Wales.
"In Scotland, the big spends have all been on central belt until now, so it's very pleasing to see major investment coming to north of Scotland with the A9 and A96 dualling projects and major link roads for Inverness.
"But local authority spend on maintenance is declining every year. There is a £12billion backlog in England and Wales to bring roads up to standard and the scale of the backlog is proportionally similar in Scotland.
Mr Mackenzie warned: "The real concern is that if we do not start investing now the problem will get worse. Once you start getting potholes, the state of the road just declines. If do not invest soon costs of repair will always go up."