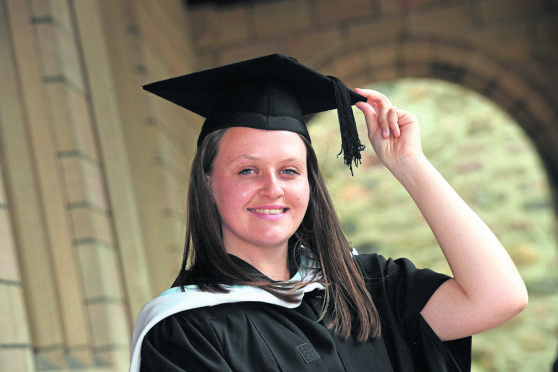 Yesterday's graduation ceremony was a memorable experience for many students as they officially completed their arduous law degrees.
But it was a double celebration for Ashleigh Buchan, who awsn't just securing her degree, but toasting her 23rd birthday.
And she was understandably delighted that the two happy evenys had coincided.
She said: "It has been a great day. I have made so many friends here who I was able to celebrate both my birthday and my graduation with."
Following the ceremony and a group photo with her fellow law graduates, Ms Buchan went out for a special dinner with her parents and brother.
She was thrilled to receive her diploma in legal practise, her second degree from Aberdeen University, after previously receiving a first in her law and accounting undergraduate course.
In the autumn, the graduate will embark on a new chapter of her life in Aberdeen by commencing a two-year traineeship with law firm Stronachs in the city centre.
She said: "It will be more practical and a very different experience to university. I am excited to begin my career properly.
"There has been a lot of studying and exams but the hard work has paid off now.
"It's a really nice feeling to have the hard work and know you've passed everything safely. Everything has been worthwhile here."