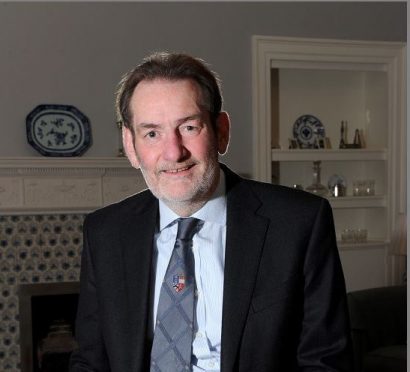 A Scottish Government body has launched an investigation into a £282,000 payment to the former principal of Aberdeen University.
The cash being probed by the Scottish Funding Council (SFC) relates to the notice period being served by Sir Ian Diamond, who stepped down from the top job in July last year.
Bosses at the quango, which oversees funding for Scotland's further and higher education institutions, said they were reviewing whether the payment "met the clear governance and value for money requirements" set by the SFC.
The review is understood to relate to £282,000 being paid to Sir Ian for his contractual 12-month notice period.
Despite Sir Ian announcing his plans to retire in August 2017, he only triggered the notice period in July 2018 – the same month he officially stepped down from the prestigious post.
It means that 11 months after he retired, the university's former principal is still officially working his notice.
North-east Labour MSP  has now written Aberdeen University to question the arrangement, highlighting that the former principal was also paid £312,000 in salary and pension contributions during the 2017/18 financial year.
The payment emerged just a few months after the SFC ordered universities to improve transparency on executive pay in the wake of a review into the departure of Robert Gordon University principal Ferdinand von Prondzynski, who received a £237,000 pay-off in August.
Karen Watt, SFC chief executive, confirmed to the Press and Journal that a review was now being held into the payment at Aberdeen University.
She said: "We expect Scotland's colleges and universities to make best use of the resources available to them.
"We have begun a review, with the full cooperation of the University of Aberdeen, into the circumstances surrounding a payment made to its former principal to determine whether it met the clear governance and value for money requirements we make of all the institutions we fund.
"As this review is ongoing, we cannot say anything further at this point."
Esther Roberton who succeeded businessman Martin Gilbert as the senior governor at Aberdeen University earlier this year, said she welcomed the review.
"As the new senior governor of the University of Aberdeen, I share the Scottish Funding Council's concerns that best use is made of the public purse," she said.
"I therefore welcome this review and will ensure that we cooperate fully to determine the facts surrounding the end of service arrangements for the former principal."
Sir Ian, who has not responded to the Press and Journal's attempts to contact him, was succeeded by Professor George Boyne as principal and vice-chancellor from August 1 last year.
The previous principal produced a report on "efficiency, effectiveness and value for money" for Universities UK in 2011, and currently serves as chairman of the UK Government's Social Security Advisory Committee, as well as Edinburgh College and global children's charity Plan International UK.
Labour MSP Mr Macdonald, who is a graduate and former lecturer at the ancient institution, said he had written to Aberdeen University's secretary, Caroline Inglis, about the payment.
He said: "Ian Diamond told the university he was retiring in August 2017, but his formal notice period appears to have been triggered only after he had actually left his post, nearly a year later.
"He was entitled to 12 months' notice, which is not unusual for senior executives in business and industry, but in this case his formal notice period seems to have begun only after his actual notice period had ended.
"This looks like double-counting and double-payment and I have asked the university to explain this approach."
Mary Senior, UCU Scotland trade union official, said: "These figures expose once again the truly arbitrary nature of the pay and perks of those at the top of our universities, and the lack of transparency around how and why these golden goodbyes are given.
"Staff and students at Aberdeen University will find it galling that their former principal has pocketed such a huge pay off, while university staff are being told that they must accept a below RPI pay deal and pay more into their pension scheme."