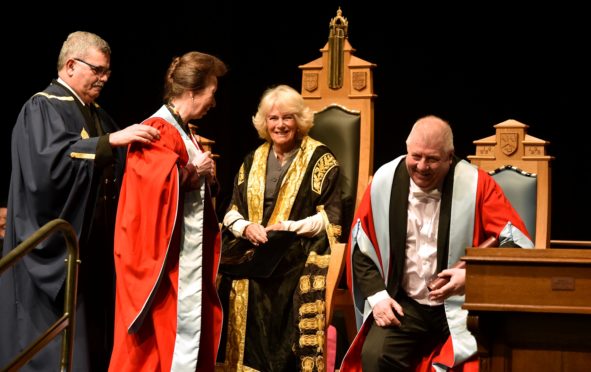 The Princess Royal has received an honorary degree for a lifetime of charity work – from her sister-in-law, the Duchess of Rothesay.
Camilla, the chancellor of Aberdeen University, joked there would be "no talk of rivalry" as she presented the honour to Anne, who is the chancellor of Edinburgh University.
Anne, who is involved with 300 charities in the UK and overseas, including serving as the patron of Save the Children, received a Doctor of Laws at the ceremony in Elphinstone Hall yesterday.
Camilla said: "I am not sure if there is a collective noun for chancellors but my sister-in-law is, of course, also chancellor of another great Scottish university, the University of Edinburgh.
"Ladies and gentlemen, we shall have no talk of rivalry today.
"But I might just casually observe that, while we are to celebrate our 525th birthday next month, the University of Edinburgh is comparatively youthful – a mere 437-years-old."
Taking a more serious tone, the duchess praised HRH's achievements and dedication to the charities that she supports.
She said: "Your history has been remarkable. Your future is set to be very exciting. I am much looking forward to seeing all your new developments as they come to fruition in the next few years."
The Princess Royal said it was "real honour" to be recognised by the university.
Since the age of 18, Anne has become involved with more than 300 charities, organisations and military regiments in the UK and overseas.
After serving as president of Save the Children for 46 years, she became patron in 2016 and has visited projects in countries including China, Cambodia, Botswana and Madagascar.
In her speech, Anne paid tribute to fellow honorary degree recipient Professor Janet Darbyshire, recognised for her work in clinical sciences, who she said she had met through Save the Children.
Previously director of the Medical Research Council clinical trials unit, Prof Darbyshire's study of diseases such as HIV and tuberculosis has led to improvements in prevention and treatment across the world.
Prof Darbyshire said it was a "fantastic privilege" to receive the honorary degree, adding: "I've had a long association with Aberdeen so it's very special to me to have this honorary degree in Aberdeen."
The Denis Law Legacy Trust, which supports children and young people through its Streetsport project, received a special award for outstanding service to the community.
The Princess Royal said she met the ex-footballer when they shared front row seats at the BBC's Sports Personality of the Year ceremony at P&J Live in Aberdeen last month.
"There's no doubting the fondness for him here in Aberdeen," she told guests.
And Mark Williams, chief operating officer of the trust, said it was a "total honour and privilege" to receive the award and paid tribute to the volunteers and team involved.
Aberdeen University was founded in February 1495 – which chancellor Camilla said "by happy coincidence" was the year of the earliest written record of the distillation of Scotch whisky.
She said: "Next month, your proud chancellor will make sure she toasts your birthday with a wee dram."