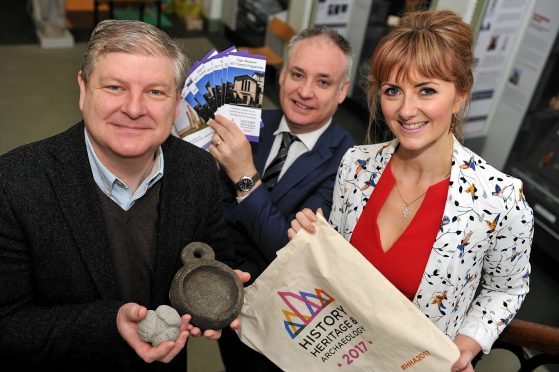 Youngsters will delve into Moray's ancient past when Elgin Museum launches a celebration of the region's numerous archaeological wonders.
The High Street venue will open for its 2017 season next weekend, and organisers are plan a series of events to mark Scotland's year of history, heritage and archaeology.
Volunteers showed guests around some prize exhibits yesterday and detailed their plans for the coming months.
Outings to sites such as Kinloss Abbey and Duffus Castle have been lined up by organisers.
And they explained that children will use clay to create their own versions of the Neolithic stone balls which the museum displays.
Archaeologist, Dave Anderson, described the small spheres, which feature ornate carvings created using other stones, as "enigmatic".
He said: "Their function isn't known, but they've been discovered most commonly in the north-east of Scotland."
Mr Anderson added he was hopeful of securing permission to dig on Cluny Hill in Forres to investigate an ancient fort that once sat there.
Museum board member Claire Herbert said the venue would focus on attracting more families in the coming months.
She explained: "We will be showing how our ancient objects relate to the world around us by highlighting where in Moray they were found, and what is there today."
Visit Scotland's regional manager, Jo Robinson, marvelled at the museum's range of exhibits yesterday.
She said: "Hearing the stories people have to tell about their area is what excites me, and what helps draw more visitors to these places."
Moray MSP, Richard Lochhead, insisted the area was ideal for showcasing the tourism body's year of history, heritage and archaeology.
He said: "When you enter the museum, your eyes are opened to the wealth of heritage and history Moray has.
"This themed year is the ideal opportunity to attract more people to learn about all that we have on our doorstep."
The area's MP, Angus Robertson, added: "Moray is an amazing region in terms of historical and archaeological significance.
"I would commend all of the museum volunteers who provide us with such a service."
The new season will launch next Saturday with a medieval-themed April Fools' Day celebration.
Between 11am and 4pm, there will be craft activities, circus skills workshops and information about the history of jesters.