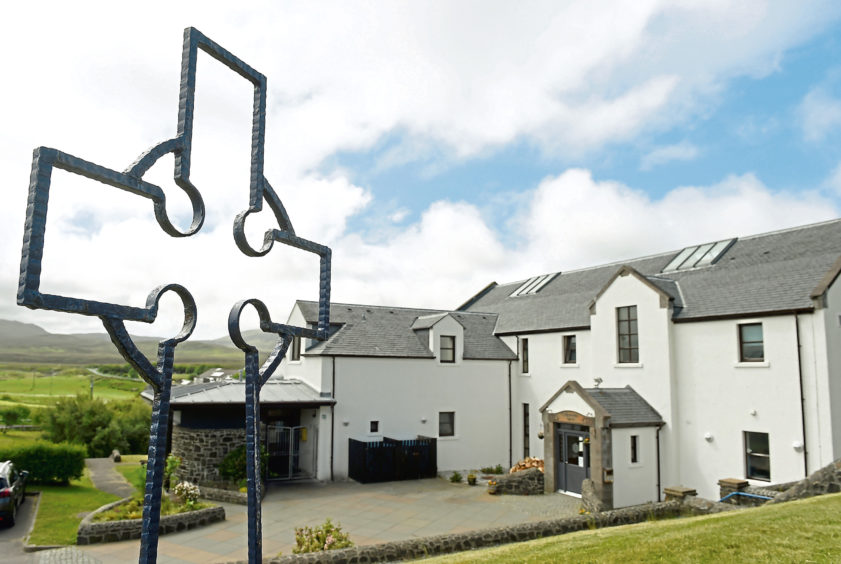 We had hired a cosy cottage overlooking glorious Staffin beach with the intention of discovering some of the beautiful walks in and around Skye.
Our favourite walk was the Quiraing, with stunning views over spectacular landscapes. Part of the Trotternish Ridge, it has been formed by a massive landslip which has created high cliffs, hidden plateaus and pinnacles of rock.
The weather was kind to us and we thoroughly enjoyed our two-hour trek admiring the rock structures, the sea and beyond to the island of Raasay. Of course, all that fresh air and exercise made us feel rather ravenous, and as we had driven past Columba 1400 in Staffin earlier, we decided to visit there for dinner.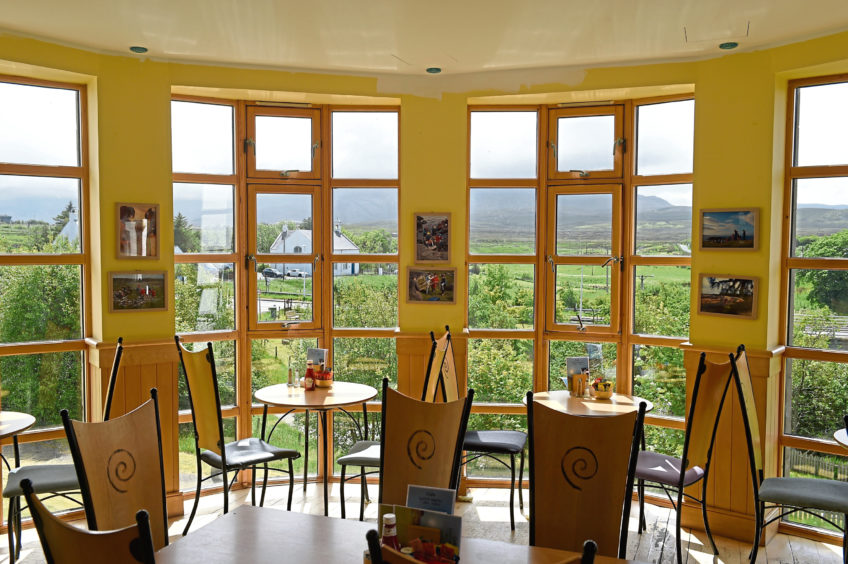 The large white building sticks out among all of the tiny white cottages dotted around the hamlet. Opened in 2000, Columba 1400 is an award-winning social enterprise and charity. Their work is dedicated to enabling young people from tough backgrounds to discover their true potential.
On site they also have a social enterprise cafe where all profits raised go back into their work with young people.
The dining room is a large round-shaped room with high wooden vaulted ceilings and an open mezzanine floor. Along with the beautiful big windows, the room is flooded with natural light. A wood burner stands on one side, which must be lovely in the winter months. There is also an outdoor terrace with terrific views across to the Quiraing peaks that we had hiked earlier that day.
The restaurant was fairly busy when we arrived, with a varied clientele including tourists and local families. Most places on Skye close their kitchens quite early, and this one was no exception as it was only open until 8pm on the Saturday evening we visited.
The menu consists of half a dozen starters, various burgers (including an interesting Quiraing mountain burger), salad bowls and some steak and fish dishes. All of that fresh air and exercise had given us all major hunger pangs so ordering a starter was in order.
My husband never goes past Cullen skink, so a bowl of his favourite soup was in order, plus some loaded potato skins for the rest to share. The soup was up to his high standard; thick and creamy with a real smoky flavour from the fish and was served with a chunk of homemade wholemeal bread.
Our potato skins was a decent portion with a perfectly crispy skin on the outside and soft on the inside. However, we felt the accompanying sour cream and chive sauce was rather overpowering and tasted of vinegar.
For mains, I thoroughly enjoyed my sea bass with pesto; what a winning combination. It was served on a bed of perfectly cooked vegetables and new potatoes. My husband plumped for the lamb shank, which was smothered in a rich lamb gravy and brought a "wow" from us all as it was presented to the table.
He said the tender meat just fell of the bone as it should do and had the right amount of accompanying vegetables allowing the lamb shank to be the centre of attention on the plate.
My friend ordered a sirloin steak with a brandy and peppercorn sauce, tomato, mushroom and fries. Served on a large white oval plate, she thoroughly enjoyed her dish, although one small criticism might be that the meat was slightly tough. Her husband tucked into his butterfly chicken breast with Stornoway black pudding, which was served with the same sides as the steak dish.
I always love a sweet treat at the end of a meal, and Columba 1400 certainly had some enticing dishes on offer. And after all, we could always walk off any calories on tomorrow's hike! We chose a mango and passion fruit cheesecake and a lemon torte.
Both desserts were elegantly served on fruit coulis adorned with fresh fruit, icing sugar and a good blob of cream. The cheesecake base had an exquisite oaty base, while the lemon torte was perfectly zingy and refreshing.
As we paid our bill, it was a good feeling knowing that some of our money would be invested back into this impressive project benefiting young people and the community.
THE RESTAURANT
Columba 1400
Staffin, Isle of Skye IV51 9JY
t: 01478 611407
w: www.columba1400.com/locations/cafe-a-shop
THE BILL
Cullen skink £6.75
Loaded potato skins £5.95
Steak £16.50
Butterfly chicken breast £12.50
Sea bass £13.50
Lamb £15.50
Lemon tart £5.25
Cheesecake £5.25
Beer and soft drinks £13.60
Total: £94.80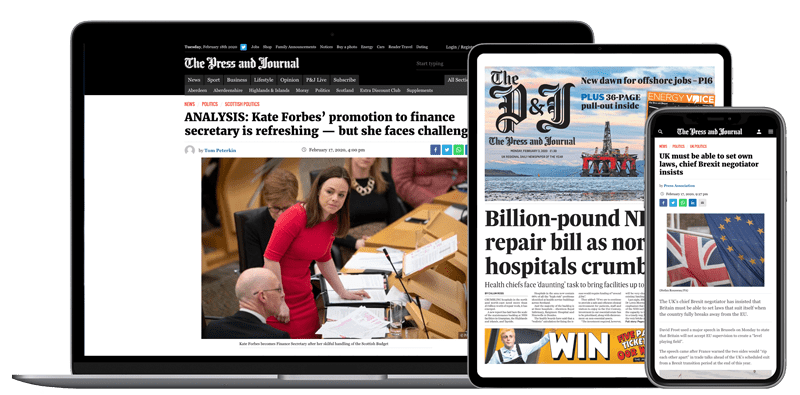 Help support quality local journalism … become a digital subscriber to The Press and Journal
For as little as £5.99 a month you can access all of our content, including Premium articles.
Subscribe