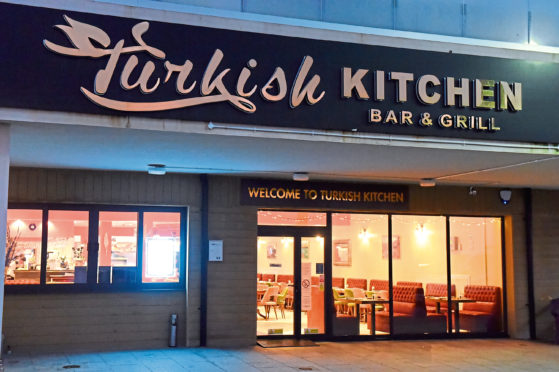 The last time I was outside a Turkish restaurant by the sea I was actually in Turkey at a place called Kusadasi.
We have fond memories and spoke of these as we approached Turkish Kitchen, which nestles beside a funfair and Queens Links leisure park in Aberdeen.
Back in Kusadasi, I recalled how we were scurrying back to our cruise ship when we spotted a Turkish man running after us and shouting.
Had we insulted local customs or something? We quickened our step.
But he turned out to be a shopkeeper who sold my wife a leather card holder earlier. Ironically, while completing this process, she left her cash and purse on his counter, walking out without a second thought.
This poor sweating fellow had been searching for us in a maze of shops around the port, but with dogged determination he found us and reunited my wife with her valuables.
What a wonderful, kind gesture from that gentleman, and we have never forgotten it.
Now we were having a wonderful time in the Turkish Kitchen on a cold Saturday night when it didn't feel like the Aegean coast at all in Aberdeen.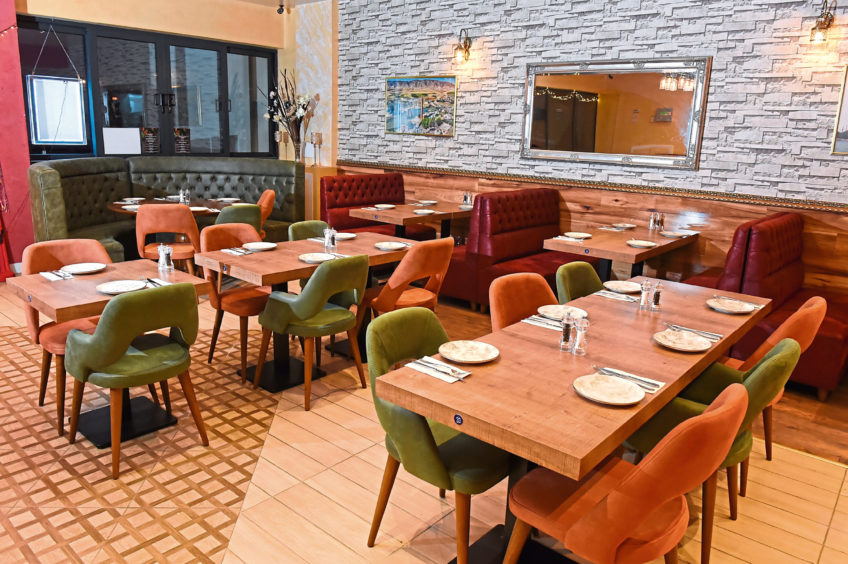 A warm buzz inside made up for that.
I am not exactly sure of the size of Galatasaray's football pitch in Istanbul, but the Turkish Kitchen's floor space felt like a match for it.
There was quite a hubbub going on because I reckon there were 80 or more diners here for most of our visit.
But the service didn't flag and they created a great atmosphere.
This was pretty impressive for a restaurant that only opened in late summer, but it's a great spot with the sea just yards away and other beachside attractions nearby.
It's also good to see a fresh lease of life around this particular spot after a serious fire a few years ago.
And their Mediterranean menu, delivered with a distinct Turkish flourish, seems to be going down a treat.
They have a section devoted to Turkish-style pizzas, called pides, as well as traditional pastas. But the range is expansive with meat, fish, chicken and vegetarian options.
Wanting to sample as much as we could, we chose three starters, but discovered a complementary mixed salad starter with bread, and garlic and chilli sauces, came first. So that made four starters, but it was a nice touch.
I polished off the chilli sauce side dish in double-quick time, but one of the attentive waiting staff brought a replacement with no charge.
That was the thing about the waiters: not only friendly and watchful, but also super-fit – I reckon – due to the speed they were building up in the long lanes between tables.
The chefs were not to be outdone with their non-stop frenetic action in the open-plan kitchen, which was part of the entertainment for us.
They resembled a pirate crew with "cutlasses" laid out in front of them. The "cutlasses" being a large row of skewers grilling meat, fish and chicken on a barbecue all night long. They seemed to be top of the list on many orders.
Back to our table, we followed up with starters of king prawns, calamari and octopus leg.
The fresh calamari fritters were crispy on the outside and deliciously soft within, served with homemade tartare sauce and a bed of mixed leaves.
The marinated grilled octopus leg was the star of the show, with olive oil, basil, oregano, asparagus and cherry tomato.
I thought it might come sliced or chopped in a salad, but there it was in all its glory – a big, thick leg complete with rows of suckers.
It sliced like chunky chicken and was not rubbery at all, which can be a problem when not cooked properly. It was something different and had a faint meaty taste.
Somewhere in the process I almost managed to skewer myself when I dropped a knife into my lap.
Despite how busy it was, a waiter spotted this immediately and brought another one straight away.
I was struggling to make my mind up over a main dish, but the number of lamb legs going out decided the issue.
Mine was a lovely piece of meat roasted in its juices along with Mediterranean vegetables, and resting on a bed of mash. A lovely thick stock rounded it off. Lots of tender meat simply fell off the bone.
My wife's dish was also a meat lover's dream: a platter of lamb cutlet and chicken, kofte and lamb shish, served with bulgur rice and grilled tomatoes and peppers.
A distinctive, slightly charred taste on the outside, coupled with the deep richness of the meat and juices, was a powerful combination.
A version of the sweet filo pastry dessert called baklava was popular in Roman times, but the Turks are fiercely protective over their historical ownership rights of the baklava we know today.
My wife ordered it in a flash and that heavenly combination of light, crispy pastry, nuts and honey in small squares hit the spot again.
And I loved my apple crumble with cinnamon, and a dollop of vanilla ice cream on the side.
We look forward to going back, and in the meantime I hope they maintain the standard of food and service they have set.
Yes, I know it's corny, but this was a real Turkish delight.
The restaurant
Turkish Kitchen
9 Beach Esplanade, Aberdeen AB24 5NS
t: 01224 595333
w: aberdeenturkishkitchen.co.uk
The bill
Grilled octopus £7.50
Calamari fritters £5.50
King prawns £7
Mix grill platter £17
Lamb £14.50
Baklava £5.50
Apple crumble £5.50
Large gin and tonic x 2 £18.90
Tonic and lime x 2 £6
Total: £87.40