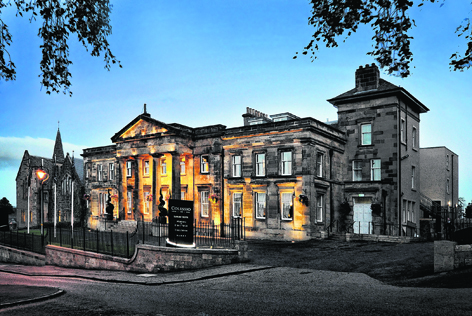 "I should be so lucky . . . " I couldn't get the Kyle Minogue song out of my head as I swept up the elegant stairs of Hotel Colessio in Stirling. As I arrived, in the middle of a torrential downpour, I suspected Kylie had made a more elegant entrance when she spent two nights here with her entourage before performing at the SSE Hydro.
With wet hair plastered to my head I didn't exactly cut a sartorial dash, but the warm welcome I received from the hotel's receptionist quickly put me at ease while a quick visit to the smallest room allowed me to make myself a little more presentable.
You see this is not the sort of place you want to rock up looking like a drowned rat. The boutique-style hotel, formerly a hospital and landmark building in the town, has been transformed into a very glitzy and glamorous venue. Exuding opulence and style, it has designer finishes throughout.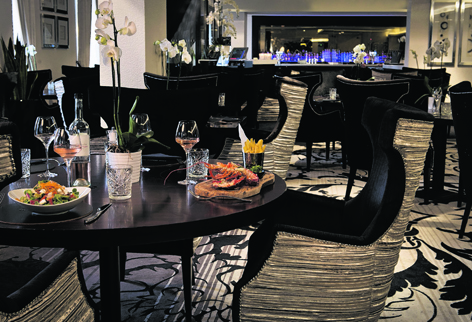 The Grill Room where we were dining has white booths, studded with Swarovski crystals which make a fabulous contrast to the striking patterned cream/black carpet, stylish velvet wing back chairs and statement mirrors. The restaurant was buzzing with conversation and I noticed many guests were very well dressed – no sign of casual dining here.
I hoped the food would be as good as the surroundings, and am happy to report that was the case. Executive chef, Linsey Scott, has been experimenting with lots of different dishes to deliver a menu packed with seasonal ingredients while creating some really unusual flavour combinations.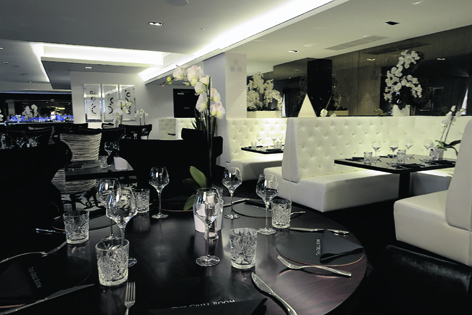 The menu features a good range of delicious starters plus a good selection of fish and vegetarian dishes, salads and steaks which are cooked on a Josper Grill. I had to ask why the cooking equipment was mentioned and was reliably informed it's because it cooks at 600 degrees centigrade which allows it to seal and caramelise meat quickly while keeping it nice and tender inside.
If you want to push the boat out you can also order little extras such as an amuse bouche and canapes. Seeing as we were dining in style, we opted to try some of these. Our window-seat table was beautifully set with candle and fresh flowers, nicely shaped glasses and good heavy cutlery and our waitress chatty and friendly without being intrusive.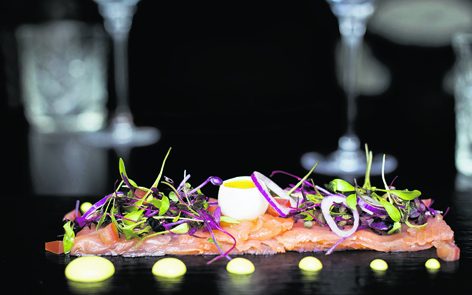 Shortly after bringing a selection of nicely presented warm rolls and bread with oil/vinegar, we began with an amuse bouche, an aromatic duck broth with sticky duck bon bon served in a small but chunky glass filled with the most flavoursome hot and sour Oriental-style soup. The duck melted in the mouth while the soup had the perfect levels of heat and saltiness.
For my starter I chose a bowl of steamed Glencoe mussels and my partner, Thai salmon and crab cakes served with a chilli and wasabi mayonnaise. The presentation of both dishes exceeded our expectations. The mussels, cooked in coconut milk with ginger, chilli and coriander were dressed with slivers of spring onions and edible flower leaves which made it look really pretty. This was delicious and very moreish as were the Thai fishcakes which were packed with salmon and crab and brimming with the fresh tang of the sea; the addition of exotic spices and hint of hot wasabi making it completely different to a regular fishcake.
I stuck with fish for my next course, a tandoori marinated salmon fillet with spiced onions, saagaloo potatoes, raita dressing and garlic bread. This was a beautiful cut of salmon, perfectly cooked – the skin itself was a culinary treat. And while the rest of the dishes were inspired by Indian food, they added warmth and taste rather than overpowering the gentle flavour of the salmon.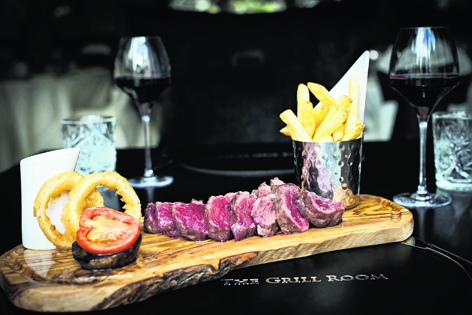 My partner, a life-long meat eater, couldn't resist seeing how the fancy grill worked so ordered a rare, eight ounce fillet steak. This came with skin-on chips, garlic confit tomato, marinated flatcap mushroom, onion rings and watercress and a choice of sauces – peppercorn in this instance. The thick steak had been perfectly caramelised on the outside, giving a lovely barbecued flavour while there was just the right amount of rare meat inside to keep him happy.
We had been lucky so far, but dessert was the showstopping finale. We shared a salted chocolate peanut butter delice with vanilla ice cream which offered a feast for the eyes and tastebuds. A masterclass in presentation, the delice was silky and buttery while the hint of salt stopped it from being too sweet. For foodies visiting Stirling, Hotel Colessio is one definitely worth visiting. Lunches and afternoon teas are also offered.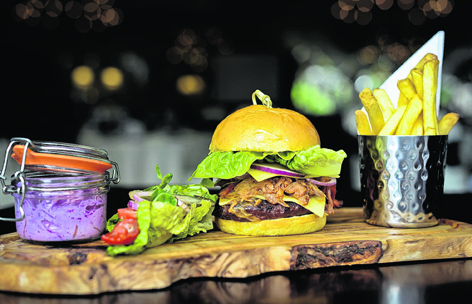 Hotel Colessio, 33 Spittal Street, Stirling. Phone 01786 448880.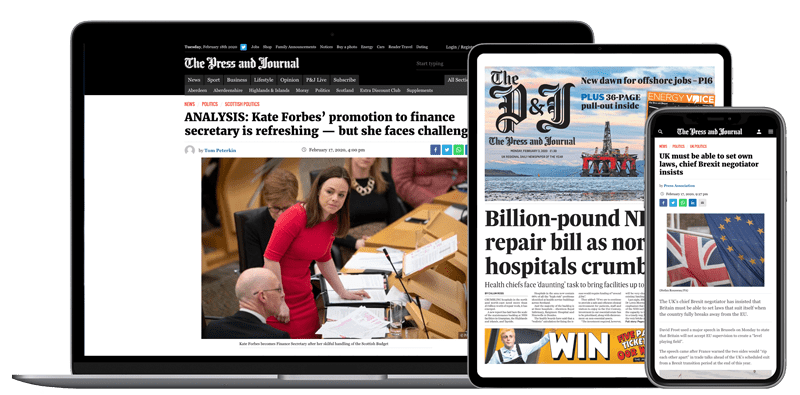 Help support quality local journalism … become a digital subscriber to The Press and Journal
For as little as £5.99 a month you can access all of our content, including Premium articles.
Subscribe