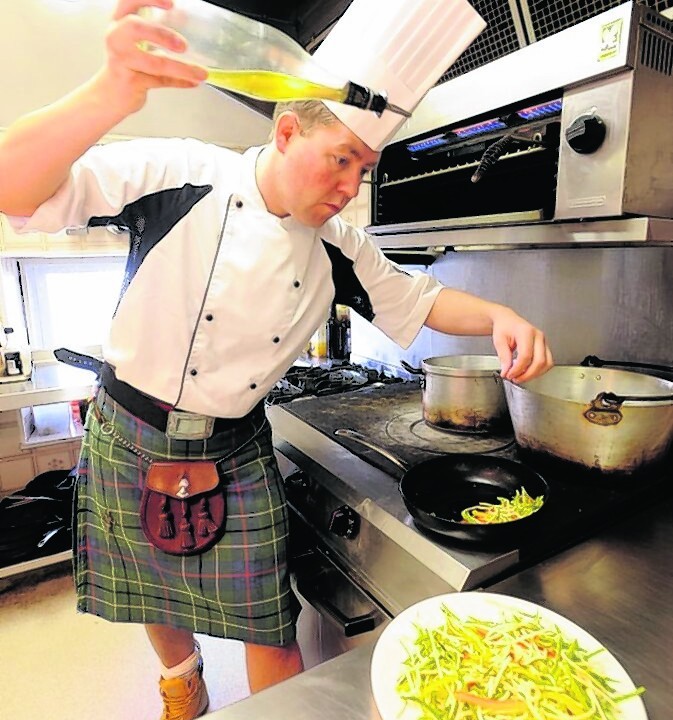 With all of Q's hi-tech tracking gadgets at his disposal, it is hard to believe that James Bond would ever be lost, but that's what happened when 007 star Sir Sean Connery took a wrong turn and wandered into a restaurant kitchen – and came face-to-face with the north-east's own Kilted Chef, Craig Wilson.
While some chefs might have wilted under the pressure of an impromptu appearance by Hollywood royalty, Craig, the award-winning proprietor of the Udny Green restaurant Eat on the Green, took it all in his stride as he has cooked for VIPs all over the world.
Recalling the chance meeting with "Bond", Craig said: "I was catering for Sir Sean's 80th birthday in Edinburgh Castle, and he took a wrong turn and walked right into the kitchen while I was cooking. It was odd, but felt really comfortable as I was in my own environment – like if I had spoken to him on a film set.
"It was the second time I had cooked for him and, when he looked at me, he said: 'You must be the famous chef. I still remember those seriously good scallops.'
"I'm not ashamed to say it made my day, and it's a moment I'll never forget."
Throughout his career, Craig has cooked for dozens of celebrities, including Sir Alex Ferguson, Liam Neeson and Sir Patrick Stewart.
"Earlier this year, I was in New York as an ambassador for Scottish food during Tartan Week. I was sharing this recipe mixing Indian spices and coriander with beautiful Aberdeen-Angus beef and Billy Connolly started heckling me from the audience. It was a surreal experience, but it was great fun. I love that, by embracing my passion in life, I am able to speak to and interact with people at the top of their game."
Cooking has long played an important role in Craig's life. As a child, he regularly visited his grandparents who worked at Westhall House at Oyne, Aberdeenshire.
He said: "I remember walking into the kitchen at Westhall House and seeing this large farmhouse table completely covered with fresh produce. All the food they cooked there was seasonal: my grandfather, the gardener, would pick the produce in the morning and my grandmother, the cook, would add it to the menu in the afternoon."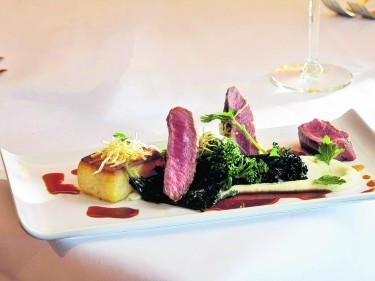 At 16, he became a trainee chef at the Strathburn Hotel, Inverurie. At 24, he found himself one of the youngest head chefs in the country at Cromlix House, now owned by tennis superstar Andy Murray. A career in research and development then followed – first at Grampian Country Foods, then Baxter's – which allowed Craig to travel the country experiment with different flavours and ingredients. He opened the critically acclaimed Eat on the Green in 2004, and has never looked back.
His passion for food has seen him become involved in numerous projects promoting the fine produce available in Scotland, becoming an ambassador for New York Tartan Week and hosting events during FoodFest15, a new year-long celebration of the best food and drink in the north-east of Scotland.
Bringing together local food producers, restaurateurs, hoteliers and retailers, the festival's packed programme highlights the wide variety of food and drink offerings available in Aberdeen and Aberdeenshire. From world-class foodie events to celebrity chefs, from distinguished fine dining to grassroots craft brewers, FoodFest15 offers a fascinating glimpse into the delicious fare produced in the region.
Craig said: "Scotland has brilliant produce that can compete on the world stage. At the restaurant, we grow our own vegetables and herbs – a practice inspired by my time at Westhall House. Even the livestock you can see from the window often ends up on the menu.
"Our whole ethos is about celebrating the world-class ingredients at our fingertips. Most people are so busy in life that they just end up getting all their food at the supermarket; they don't realise what they have on their doorstep.
"We have it all in Scotland. The local suppliers are the real stars of the show and I would urge everyone to source local ingredients, cook with them and, most important, enjoy eating them."
Up and coming FoodFest15 events include:
Six Degrees of Sound, Six Degrees North, 6 Littlejohn Street, Aberdeen, 3-7pm this Sunday, October 25. A monthly event with great beer and great music.
Aberdeen Country Fair, Belmont Street, Aberdeen on Saturday, October 31. Contact: www.aberdeencountryfair.co.uk
Macduff Market, Macduff Fish Market, 32 Shore Street, Macduff, on Saturday, October 31.
Huntly Farmers' Market, Huntly Square, Huntly from 9am-1pm on Saturday, November 7. Admission free. Contact: www.huntlyfarmersmarket.co.uk
For further details of FoodFest15 contact: www.foodfest15.com or www.facebook.com/foodfestfifteen