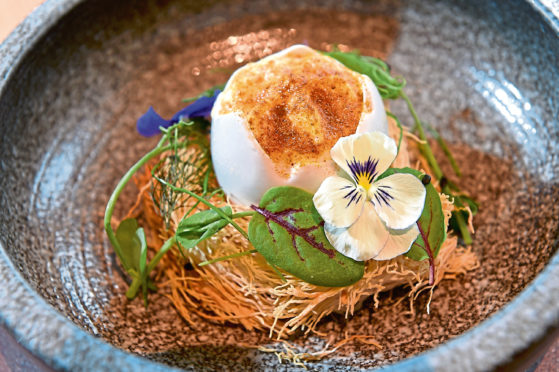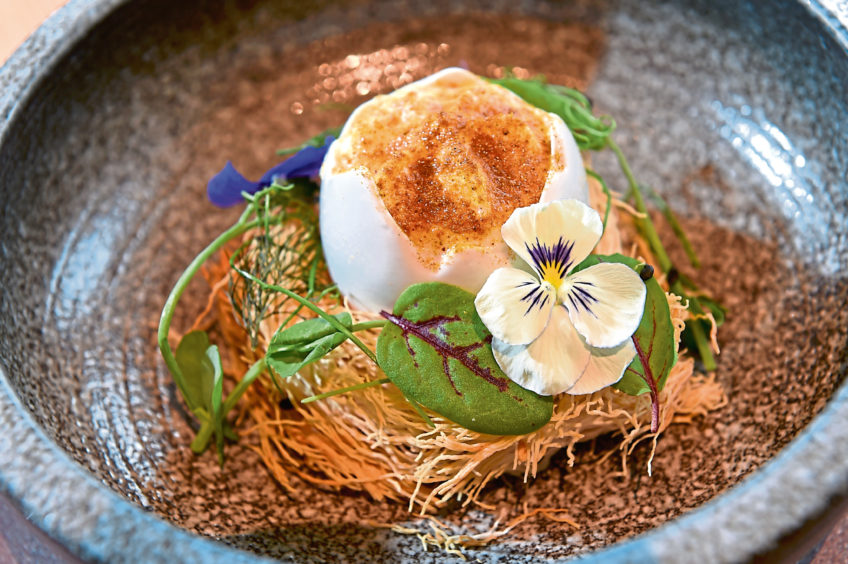 Growing up in Dornoch many years ago, going out for dinner was a real treat.
Mostly it was to the local pub for a basket supper, which was still a treat ,especially if you got a fizzy juice and an ice cream at the end. Nowadays people are far more adventurous, and with cookery programmes such as MasterChef on prime-time TV, showcasing amazing dishes, our palates are definitely changing.
Just a stone's throw from the famous Royal Dornoch Golf Course is Links House. Built in 1843, the Main House is a stunning Scottish manor home that houses the restaurant as well as 15 bedrooms, all of which are named after Highland salmon rivers. Additional accommodation can be found in neighbouring buildings The Mews and the newly built Glensheil.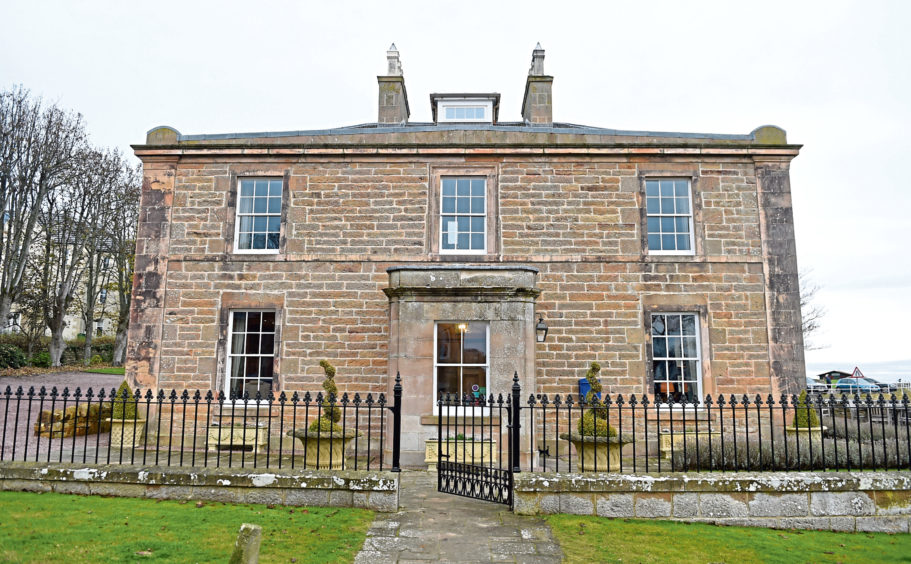 Just walking through the door we felt swathed in luxury. Hints of tartan, thick carpets, beautiful paintings and a crackling fire greeted us in the cosy sitting area, where we were handed the menus and offered an aperitif. Our waiter then served up some canapes on oversized silver spoons; a light and fragrant salmon ceviche and a crispy meatball. A wonderful taste of things to come.
We had two menus to choose from: a seven-course tantalising tasting menu for £50 per person and an impressive a la carte menu. After some mouth-watering debate, we plumped for the tasting menu, as we were keen to try as many dishes as possible, and we were so glad we did.
The wine list was extensive, with bottles of wine from around £30 to a wallet-busting bottle of Cristal Champagne for £280. Our charming waiter, Connor, suggested pairing wines with our taster menu, as they can then match the perfect wine for each course. As my husband prefers a red wine and myself a white wine, we thought this was a terrific idea and an ideal opportunity to sample some different wines.
We were shown to a lovely table in the elegant dining room. A large fireplace divides the room; however, I was disappointed it wasn't lit, as the room did feel a little chilly.
Firstly we were presented with a variety of breads: a parmesan swirl, sesame seed focaccia, onion bread and a choice of butters. The quenelles of butters were elegantly presented in oyster shells on a bed of rock salt. I can honestly say the tomato butter was the most heavenly butter I have ever tasted.
Our next course was a curried coconut egg, with baby squid bolognaise and preserved lemon. The small pool of cold liquid was served in a cute egg shell china dish. The flavours were all very subtle and I loved the small pieces of baby squid nestling at the bottom of the egg.
Our next course was Scottish bluetail lobster ravioli. The wonderful pillow of ravioli sat on a fennel remoulade and ruby grapefruit and was drizzled with a light bisque. Every single element of this dish was superb. In one mouthful you got the citrusy tang from the grapefruit mixed with the hint of aniseed from the fennel, and then the delicate flavours of the seafood inside the ravioli. Our paired wine with this dish was a delicious Charming Gruner Veltliner from Austria, described as a soft and juicy wine with aromas of ripe apples.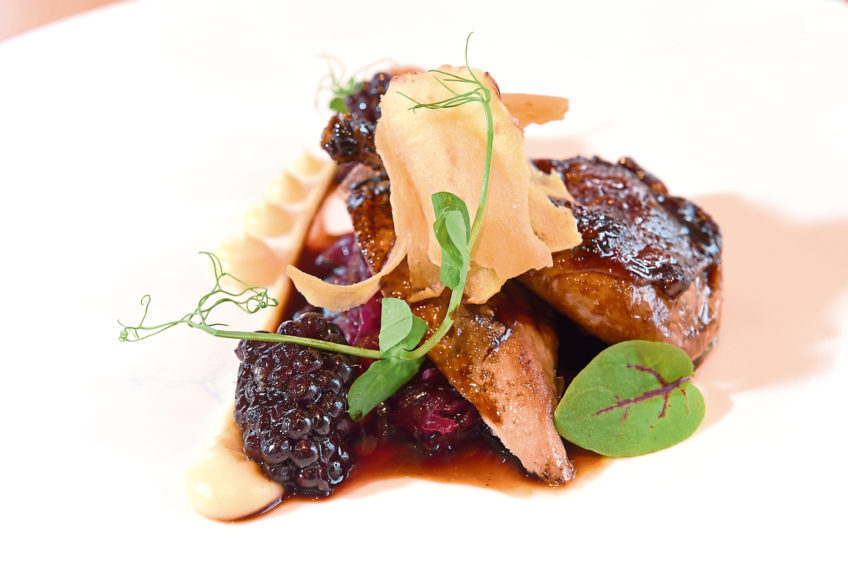 On to our next course of roast local red leg partridge. Once again skilfully presented on a large white plate with the meat taking centre stage on a bed of sweet pickled red cabbage, Jerusalem artichoke and drizzled with a wild bramble jus. I am not usually a fan of game but I loved the partridge, which had quite a delicate flavour. But the star of the show was the pickled red cabbage with spices that reminded me of Christmas.
My only complaint was that the portion could have been a bit bigger! To accompany this meat course we sipped on a fabulous, plummy, dark Merlot that paired perfectly with the partridge and rich jus.
On to our final, and my favourite, course: dessert. Once again the epitome of fine dining, the dessert was packed with so many textures and flavours. The bitter chocolate mousse, honeycomb, sea salt, raspberry and hazelnuts really was rather special. Incorporating so many of my favourite things without being overly sweet, I was in pudding heaven. I was interested to see what wine they would serve, as I am not a fan of a dessert wine, but was pleasantly surprised when served a small glass of chilled, crisp Champagne.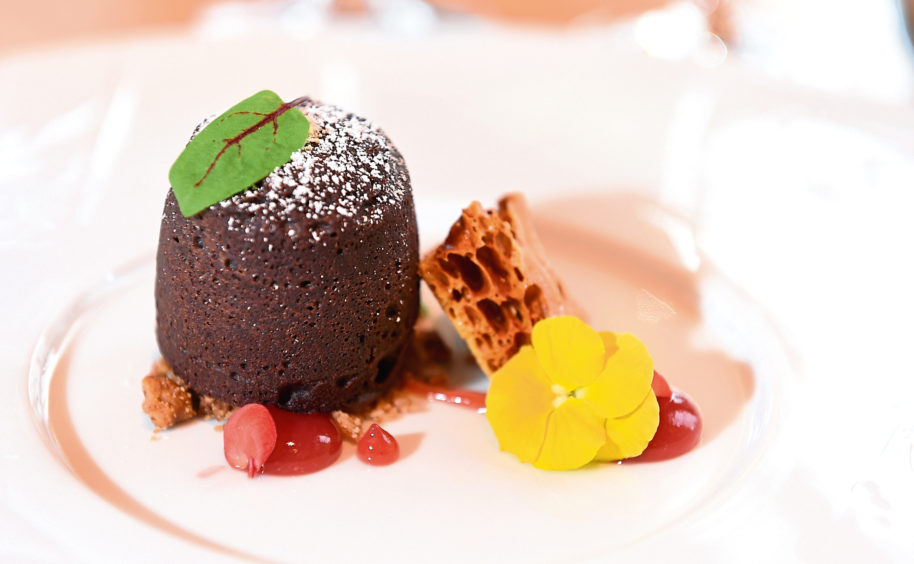 As we relaxed with coffee and homemade petit fours (decadent dark chocolates, sweet white chocolates and even mini jelly cubes), we vowed to return.
Links House provided us with a superb dining experience with their inventive and sophisticated menu using the finest seasonal Scottish ingredients.
The restaurant
Links House at Royal Dornoch
Golf Road, Dornoch, IV25 3LW
t: 01862 810279
w: www.linkshousedornoch.com
The bill
Two taster menus £100; two wine pairings £60
Total: £160