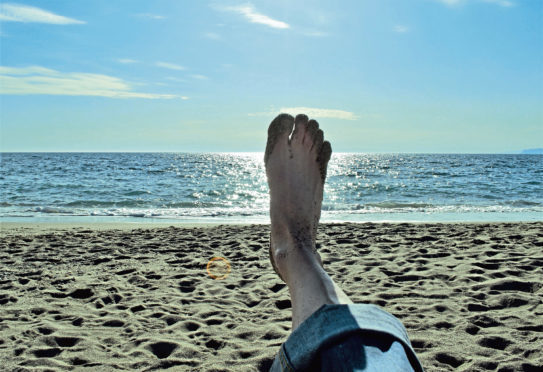 After numerous weeks in Israel and the West Bank, I actually went back into Gaza for a second time and another three days. I finally left at 8am, going once again through the immense security to enter Israel. It's so tight right now with all the recent killings on the Gaza border. On the Israeli side, I had no option but to take a taxi for 150 USD, direct to Tel Aviv airport; ouch that hurt the old pocket.
Ninety minutes later, I was faced with Israeli airport security. Now remember, even though I'd first entered Israel many weeks previous, I'd only just re-entered that very morning from Gaza, so technically I'd been on Israeli soil for only two hours. When they saw that my point of entry had been the Erez crossing, they knew I'd come in from Gaza. Nothing illegal, but it certainly raised a few eyebrows and I had to answer a number of questions before they allowed me to proceed.
A day-time flight it may well have been, but I lay down over three seats, eye mask on and ear plugs in, and drifted off not quite believing I was on a flight to Europe having just left the Gaza Strip that morning. Something no Gazan can do. I felt guilty.
On arrival in Barcelona, I caught a connecting flight down to Alicante, where I was set to spend a few blissful weeks, enjoying the everyday luxury I had missed.
Once I'd settled in, I literally walked around in awe for the first few days when it came to electricity 24/7. I flicked lights on and off, kept going to the fridge, using the internet when I wanted and enjoyed hot water. Everyday things the people of Gaza do not get for more than a few hours per day and I'm sure we all take for granted.
First meal? Well my Muslim/Jewish friends and vegetarians alike will balk, but yes, I unashamedly devoured thick slices of black pudding, washed down with large glasses of Spanish red wine.
Every morning I biked along quiet roads, enjoying the warm yet fresh air. I felt alive. I stopped in past the nearby town of Orihuela, stocking up on an abundance of veg – fresh plentiful and cheap. Not a British tourist in sight, Orihuela is like a mini Valencia, it's genuinely authentic Spanish.
Not a lie-on-the-beach person, I nonetheless stopped off at the seaside and took this lovely photo of my foot. That's about as much sunbathing as I do.

The evenings in the Gaza Strip are just as polluted and noisy as during the day. As I sat out every evening in Spain, my favourite time of the day, I glanced up at the clear sky as stars twinkled in their untold numbers. No light pollution here. The only sound I could hear was bats as they darted around catching insects.
One morning, it was early, too early, but I was awake. So, I took a cup of freshly made black liquid gold and sat outside. The rest of the world not yet awake, it was serenely calm. As I sat supping my brew, I enjoyed the most beautiful sunrise. As the world came to life, I thought of Gaza, the noise, chaos and pollution and pushed away another pang of guilt, instead feeling very grateful for my life.
Once the sun had come up, something suddenly caught my eye. A few feet away, on the patio tiles sat a large praying mantis soaking up the early morning rays. I lay down on the ground, got up close and took a shot of this beautiful creature. That said, if you're a male one, that ain't good, I mean the female eats him after she's had her wicked way, doesn't she?
As idyllic as this all sounds, it wasn't a holiday. I got lots of writing hours under my belt; after all, these columns don't write by themselves, unfortunately. It was a joy though, simply to be in one place for a while, a safe clean and quite place at that.
The Spanish love attending their fiestas, and certainly take much pride in organising them. Often with a religions connection, this of course was a Catholic one; numerous groups carried gigantic icons, crosses and statues of the Virgin Mary through the streets. It's quite a spectacle and I highly recommend that if you ever get the chance to go to one, you should. But be warned, they do go on for hours…
Writing complete, I returned to Scotland for a few weeks, but don't get me started on the price of a pint in Aberdeen these days – what a shock to the system that was. I caught up with family and old friends, often bumping into readers with kind words to say about my columns. Thank you for your support. I promise to, and do, answer all e-mails sent to me, so if you have a point to make, the good, the bad or the ugly, then feel free to get in touch.
I enjoyed walking the family dog in the peace and calm of rural Aberdeenshire, but why oh why is the weather so changeable there? One minute battering rain and wind, 10 minutes later, blue skies with the sun beating down. Blimey, I don't think I've ever been in any country where the weather changes so quickly. Up Bennachie, it wasn't a case of four seasons in one day, more like four seasons in an hour.
It wasn't long though, before the open road was once again calling me. Will it ever stop calling? I don't know, one day maybe. First aid kit loaded up, inoculations done, homework done and contacts made, it was time to head off again. But to where?
Can it really get any more intense than the Gaza Strip? Well, yes it can. You should have seen the look on my dad's face when I told him: "I'm off to Erbil in Iraqi Kurdistan."
In northern Iraq, nearby cities such as Mosul were only last year liberated from the brutality of Islamic State control.
After Kurdistan annoyed Iraqi central government by holding a referendum, Baghdad, as punishment in late 2017, closed the Kurdistan airspace. This basically cut them off from the wider world and put plans I had on ice. I'd been keeping my eyes on the situation and was delighted, if not a little surprised, to see that the international airspace had recently been re-opened.
That said, no one knows for how long it will remain open, therefore I'm not convinced I'll even get in. That's why I've been working on a plan B and C.
First up though, I've got to make the long journey to simply get there.
To contact George directly about any of his columns, email nadmgrm@gmail.com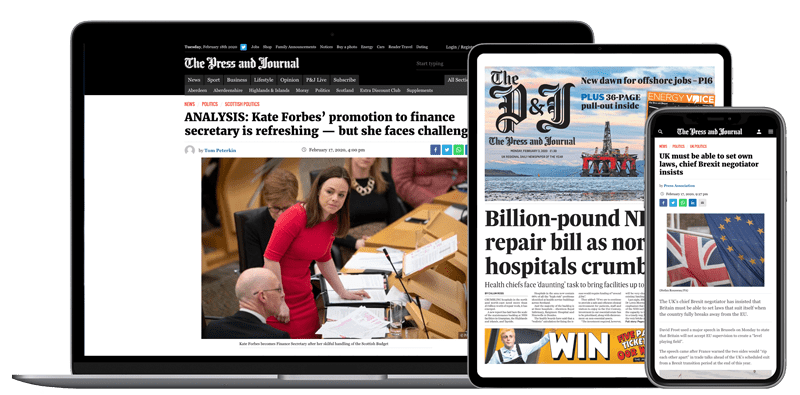 Help support quality local journalism … become a digital subscriber to The Press and Journal
For as little as £5.99 a month you can access all of our content, including Premium articles.
Subscribe