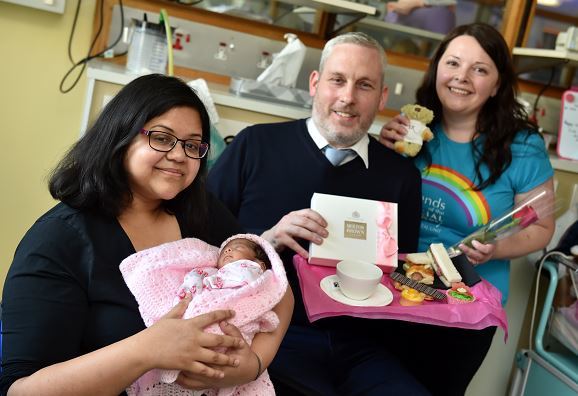 Mothers whose babies are being treated in the Special Nursery in Aberdeen received a "lovely" surprise yesterday courtesy of a local hotel.
The Chester Hotel on Queen's Road prepared 60 Mother's Day afternoon tea-themed hampers to donate to the Friends of the Special Nursery, the official charity of the neonatal unit at Aberdeen's Royal Infirmary.
The hampers included a ready-made afternoon tea tray with sandwiches, cupcakes, éclairs, and a china cup for tea plus some Molten Brown hand creams and each box was topped-off with a fresh rose.
One Aberdeen mum, Jinia Mridha, was surprised by the gift when she was in for one of her twice-daily visits to five-week old daughter, Alana. The mum of two spends many hours in the unit and was delighted by the box of treats, saying: "I really didn't expect anything at all; it's such a nice surprise. Alana is doing really well, but I'm not sure when she will be allowed to come home – but I get in here as much as I can during the days and again in the evenings once my five-year-old has gone to bed."
The neonatal unit is for babies who are born too early or too sick to be able to go straight home and is currently looking after 26 babies.
Friends of the special nursery charity worker Julie Wilson has also had experience of spending time in the unit visiting her daughter Isla who spent five months in the nurses care after she was born prematurely in 2010.
Mrs Wilson remembers  coming to visit on the Christmas Day Isla spent in hospital and said: "It's days like Mother's Day and Christmas that seem more poignant – I wish I had something thing like this then – we sat outside and ate turkey sandwiches in the car! This is such a lovely thing to do on Mother's Day."
Graham Wood, director of the hotel was on hand to deliver the gifts and thought it was a nice way to support some of the mums, adding: "We thought it would be a great way to cheer-up these mums on Mother's Day. Some of my family members' children did have to spend time in the neonatal unit – so I know partly what they have been going through."