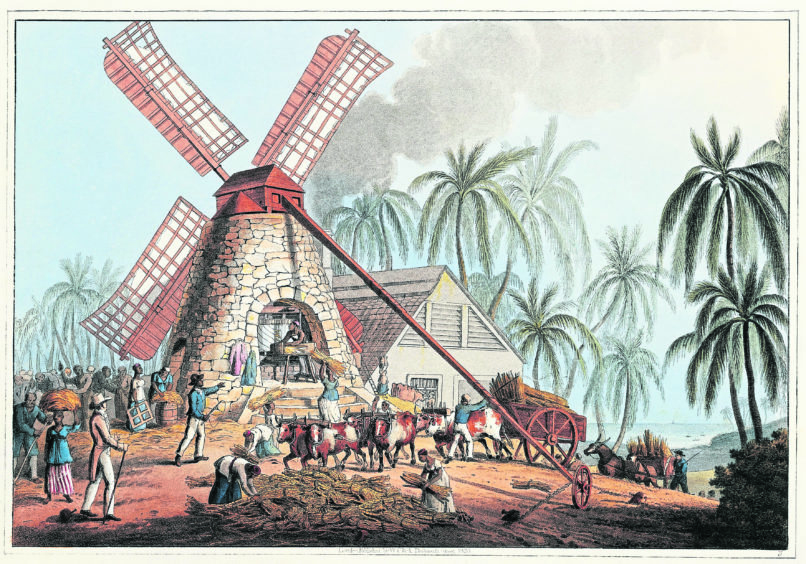 A Deeside community has been given nearly £25,000 of funding to delve into one of the most ignominious chapters in Scottish history.
Residents of Birse, near Aboyne, have developed a project to explore the country's connections with the slave trade – with even children getting involved in exploring their school's past.
The "Aye, it wis aabody" project has been launched by the Birse Community Trust, and has now been granted £17,900 from the National Lottery and £5,000 from Aberdeenshire Council.
Finzean Primary School was established in 1732 with a legacy from Reverend Gilbert Ramsay, which was funded by the sale of his slaves in Barbados.
It also supported a parish poor fund and eight bursaries at Marischal College – which later became Aberdeen University – prioritised pupils from the parish of Birse.
The venture will see the school's current pupils work in partnership with their young counterparts in Jamaica to produce a history book, in the form of a graphic novel.
North Street School in the capital, Kingston, is the former school of Sir Geoff Palmer, professor emeritus at Heriot-Watt University and Jamaica's first Honorary Consul in Scotland.
With his support, a partnership has been established between the two schools and, in the coming months, the pupils will learn about their different cultures and heritage.
This will include researching the life and times of Thomas Craig Ramsay, a Jamaican-born boy who came to Birse in 1824 and was educated there.
Sian Loftus, who is managing the project for BCT said: "Thomas Craig Ramsay was mixed-heritage. His father Francis owned slaves and opposed abolition.
"His mother was descended from slaves through at least one grandparent. His story, of mixed African, Caribbean and Scottish heritage, provides today's pupils with a springboard to explore slavery from different perspectives."
The scheme aims to demonstrate how many different parts of Scotland were part of the trade, which was eventually abolished in the 19th century, though not without considerable opposition.
BCT trustee Alison Bell added: "The name of the project is a response to the perception that, when it comes to the transatlantic slave trade, 'it wisnae us'.
"Our community's experience is not unique, but it does provide some compelling stories which illustrate the breadth and complexities of Scotland's slave trade legacy.
"If it was a small school in rural Aberdeenshire then 'it wis aabody'."
In addition to a series of school-based activities, the initiative will see the wider community research the lives of past pupils and links with the transatlantic slave trade, with the support of genealogy consultant, Alex Wood.
Francis Ramsay's letters
Birse Community Trust is keen to trace the letters that Francis Ramsay wrote home from Jamaica, from about 1803 to 1825.
They are known to have survived in the family (Ramsays of the Haugh,
and Waterside, Birse) until at least the 1980s, when they were seen by local historians.
But although transcripts of them were made, copies were not kept by the historians. The letters are believed to have been sold to a dealer by the late James Garioch.
Sian Loftus said: "With easier access to archive material in Jamaica than was available
to local historians in the 1980s, we now know more about Francis' life, including the fact that his children were of mixed-heritage.
"This brings a whole new layer of interest to his story and to his letters home. To be able to read the letters, or even the transcripts, would be invaluable to the project and the pupils in Finzean and Kingston."
If anyone knows where the letters, or copies of the transcripts, are e-mail sian@sianloftus.com or call Birse Community Trust on 01330 850200.