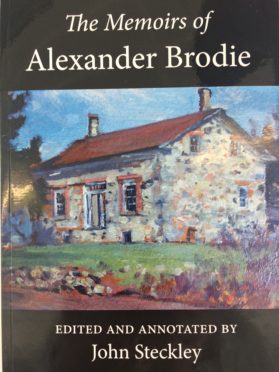 Scots have travelled all over the world and made their mark throughout the Commonwealth.
And now, an anthropologist and sociologist, John Steckley, has edited the memoirs of his great-great-great uncle Alexander Brodie, originally from Peterhead, who emigrated to Upper Canada – now Ontario – in the 1830s.
It's a fascinating look back at the past, which covers such topics as the Upper Canada Rebellion of 1837, the scourge of "Indian" raids, and the often treacherous transatlantic crossing to North America in the first place.
Indeed, one of the reasons why Brodie left Scotland was the grievous loss of life among the men who made their living from the sea in the Blue Toon.
In these days, whaling was a common profession, but it came at a heavy price with ships sinking every other week as crews journeyed beyond Greenland and towards the Davis Strait and Baffin Island.
As Steckley wrote: "One disastrous year in 1830 may have started the Brodie parents thinking there needed to be a different career path for their boys.
"In what was described as the 'wrecking year', no fewer than 31 ships from the British fleet of 91 were lost at Davis Strait.
"Many more returned 'clean', that is with no cargo, and they had dreadful tales to tell.
"It was commonplace for ships to become stuck in the ice floes for days or even weeks on end, but the season of 1830 was the worst ever seen and returning captains reported cases of severe frostbite, scurvy and madness."
The Brodies themselves suffered many travails throughout their trek to Canada, not least because the owner of the brig, "Alert", James Hogg, was somebody who didn't really bother with the normal rules of sailing.
Brodie recalled: "On some previous voyages to Quebec, he refused to receive a pilot onboard, saying he knew the way to Quebec as well as any pilot.
"The result of his obstinate and unreasonable behaviour meant he could not get a crew to sail with him."
Within the next few days of their journey, a terrible storm ravaged the Alert, as Brodie memorably described.
He wrote: "For three days and three nights, the brig was tossed as a mere toy on the great sweeping billows of the western ocean.
"The lurches and giddy motion brought on sickness and the half deck was a scene of shrieks, prayers, and recriminations so uncouth as to border on blasphemy.
"With every great lurch from larboard to starboard, somebody groaned 'Down we go', but we did not go down.
"Amid all the commotion and danger, children slept, or at least they did until a huge wave rolled the brig and threw them from their berths on the half decks."
Mercifully, the Brodies survived their ordeal and Alexander's reminiscences, skilfully annotated and edited by Steckley, are a fascinating glimpse of a bygone age.
The book is available from Rock's Mill Press at www.rocksmillspress.com