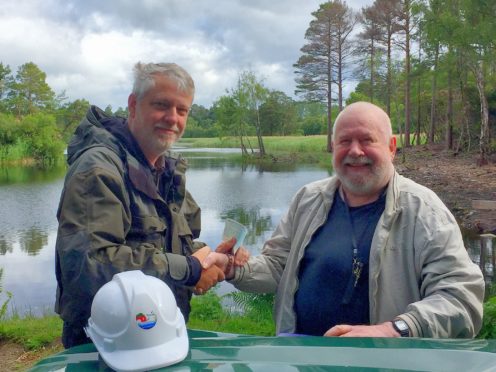 The charity behind a project to revitalise a neglected Forres loch has received a significant funding boost.
The Friends of Blair Loch is working to create an outdoor learning facility, community fishery and a footpath network at the overgrown site.
Last week, they received an unexpected fillip when the Burgess of Forres Colin Lipscomb presented the group with a donation of £10,000 towards the project.
Mr Lipscomb highlighted how pleased he was to be able to offer his support in any way.
He said: "The volunteers are doing a wonderful job at the loch and putting in a lot of work to make the place available for the youngsters of Forres.
"I'm pleased to be able to support them in their efforts."
Brian Higgs, trustee treasurer of the Friends of Blairs Loch, was thrilled about the massive donation.
He said: "We have been totally overwhelmed by Colin's generosity. The support we have been receiving from people in the area has been tremendous, but a financial boost like this represents a big step toward achieving our ambition to create something special at Loch of Blairs.
"Colin supports so much in the Forres area – he really is a 'Friend' of Blairs Loch."
The donation will go towards the restoration and refurbishment of the boat house and bothy building which will form the first phase of a development of a field study facility for use by local schools and groups.