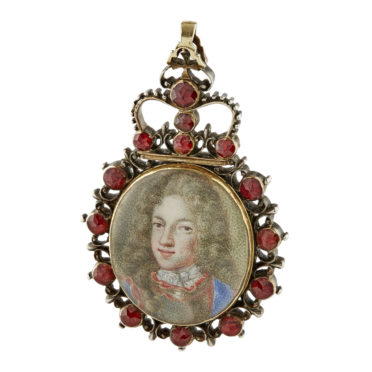 Rare portraits of Bonnie Prince Charlie's parents are going under the hammer as part of a significant private collection of Jacobite artworks next week.
The pair of portrait miniatures of James Francis Edward Stuart, known as The Old Pretender, and Maria Clementina Sobieska have been valued at £3,000-5,000.
They will go up for auction alongside another single miniature of Prince Charles Edward Stuart, all of which were originally in the possession of the Creyke family – who had strong historical links to the Jacobites.
The Creykes seem to have been spread along the borders of Scotland, York and wider afield in Yorkshire.
By the time of the Stuart uprisings, their seat was, and had been since 1447, Marton Hall in East Riding.
The collection of Jacobite works also features a gold mounted ring which holds a lock of Prince Charles Edward Stuart's hair and is expected to fetch up to £3,000.
Colin Fraser, a specialist in Jacobean cultural artefacts, said: "While various locks of the prince's hair survive, it is highly unusual to find one with a dated presentation and even more so to a date preceding the launch of the '45 campaign.
"Given the date on this presentation, it appears that this lock of hair was given to a supporter of Charles before his journey to Scotland from Dunkirk in 1744."
Other portraits in the collection include a rare image of Prince Charles Edward Stuart valued at £2,000-3,000, pictured with the sash of the Order of the Garter, and a neck badge of the Order of the Thistle.
There is also a hidden portrait of Bonnie Prince Charlie in a snuff box which has been valued at £2,000-3,000.
Mr Fraser added: "Examples such as this are amongst the most iconic Jacobite works of art. While they are a well recorded type, they are rare in any form.
"This example is in particularly good condition and it is finely enamelled."
The Scottish Silver and Applied Arts auction takes place at Lyon & Turnbull in Edinburgh on Wednesday, August 14, from 10am.