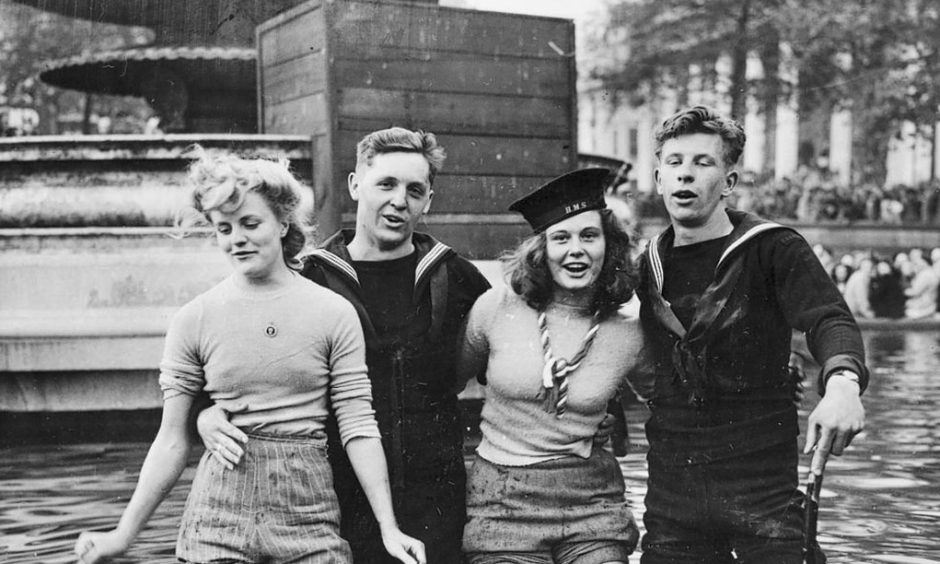 It was a time of national rejoicing – May 8, 1945 – when the Allies finally celebrated victory over the German Army 75 years ago.
The spontaneous outburst of emotion which erupted on VE Day was a feature of myriad towns and cities throughout the country as Britain, besieged and beleaguered for so long in the conflict, was finally able to look to the future.
The festivities were understandably tinged with sadness. Millions of people across Europe and further afield had been killed in the hostilities and many soldiers would be trapped in prisoner of war camps or the jungles of the Far East for many more months.
But finally, as the news spread about the end of the war, all manner of impromptu parties and commemorative events were staged across Scotland, from Aberdeen to Arbroath, Inverkeithing to Inverness and Dunvegan to Dundee.
DC Thomson is planning to commemorate the immense sacrifice and courage of those who served their country and were involved in the VE Day celebrations.
Perhaps you were a soldier returning from the conflict or somebody who had flown a Spitfire. Maybe, you were involved in the Women's Land Army, served as a member of the crucially important Atlantic and Arctic convoys, or were at the heart of pivotal code-breaking work in the secretive world of Bletchley Park.
Then, there were those people in reserved occupations who kept the home fires burning from 1939 to 1945.  These included the farmers, steelworkers  and emergency service personnel who helped Britain to "Dig for Victory", saved lives throughout the blitzkrieg of Blighty or created the munitions which were so significant to the Allies' success.
Very few of the veterans of the Second War are still alive. Their numbers are shrinking with every passing year. But many of these brave men and women left behind memories and photographs of their experiences and passed them on to their sons and daughters.
VE Day – and VJ Day later in the same year – were hugely emotive, poignant occasions at the climax of six years of devastating global conflict which claimed more casualties than any other war in human history.
If you can help us share your recollections of these celebrations, please contact neil.drysdale@pressandjournal.co.uk