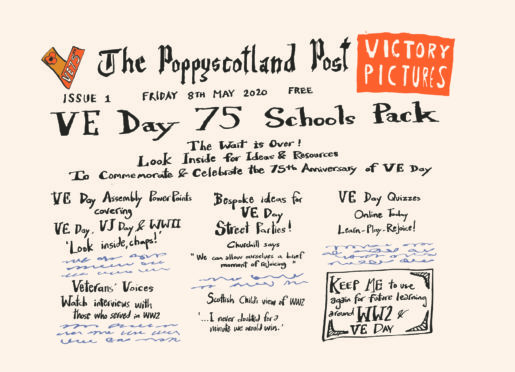 A new digital resource to help Scottish youngsters learn about VE Day has been launched just a few weeks before the 75th anniversary of the end of the Second World War in Europe.
Poppyscotland's initiative will be delivered over the charity's social media channels and learning website until May 8 – the day when hostilities ceased across Europe in 1945.
The innovative new educational tools have been created by the organisation, in partnership with the Scottish Government and Legion Scotland.
With Scotland in the grip of the Covid-19 pandemic, Poppyscotland has worked to ensure that a host of resources are available online for pupils to use as part of their new home-working regimes.
The VE Day 75 kit contains an abundance of facts and stories about what life was like for those living through the war and includes sections on evacuees, rationing and Winston Churchill's broadcast speech on May 8.
Pupils are also being encouraged to discover more about the conflict and stage their own 'virtual' VE Day party.
Maree Todd, Scottish Government Minister for Children and Young People, said: "During the current outbreak of Covid-19, we have already seen an incredible response from all corners of the education system.
"Poppyscotland's exceptional efforts during this difficult period will allow children throughout Scotland to continue to access these wonderful Second World War resources. It is vital that current and future generations have the opportunity to learn about the experiences of those who lived and served, both at home and abroad."
War veteran, Ian Forsyth, who is now 96 and was among the British troops who liberated Belsen 75 years ago, said he was delighted at the Poppyscotland venture.
He added: "While we cannot congregate to celebrate VE Day, it is heartening to know that we have something in place that will allow us to come together as a country and learn about what was an incredibly important moment in our history."
Gordon Michie, Poppyscotland's head of fundraising and learning, said: "The 75th anniversary of VE Day is an important milestone in our nation's history and it is vital that young people understand its significance.
"As we navigate our way through lockdown, what better way to be able to do this than for pupils to take part in Facebook Live lessons and our ideas for activities at home."
For more information, visit www.facebook.com/Poppyscotland or www.facebook.com/LegionScotland