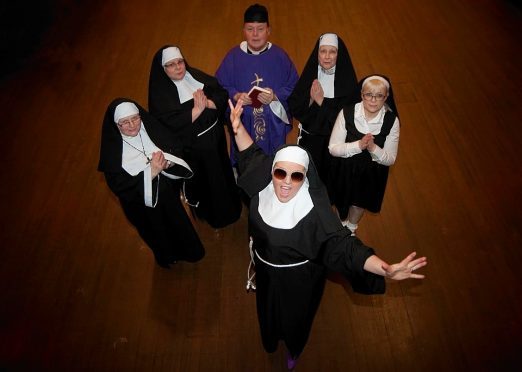 Old habits die hard for members of a Moray drama group who are marking their 50th birthday with a musical reworking of a popular comedy film.
The Elgin Musical Theatre is making the final preparations to bring Sister Act: The Musical to the town early next month.
Members say the colourful presentation is the perfect way to celebrate the group's milestone.
Chairman, Ken Smith, said any reservations they had over this year's production had been scotched by healthy advance ticket sales.
Mr Smith said: "We thought we had to do something special to mark the anniversary, but we took a bit of a chance with this show.
"We weren't sure how it would go down with our traditional audience, but it seems to have really grabbed everyone's imagination.
"There's a lot of fun in it, and some great songs that will get everyone's toes tapping.
"I can't imagine anybody leaving without a smile, it's such a feel-good show."
Elgin Musical Theatre was founded in 1966, and since then it has brought the spirit of Broadway to the town with productions including My Fair Lady and Hello, Dolly.
For Elgin's John Marshall, 75, Sister Act: The Musical will be his 50th consecutive appearance on stage with the group.
The stalwart will be joined by debut performer Nikki Furlong Lillie next month, as she takes the lead role.
The local bar singer will play Deloris Van Cartier, a part made famous in the 1992 movie by Whoopi Goldberg.
The show tells the story of Van Cartier's efforts to hide from a gang of crooks in a San Francisco convent.
The group began rehearsing for the upcoming production in August, and have increased their weekly number of rehearsals since then.
Mr Smith, who also plays Monsignor O'Hara in the show, said members were now "polishing" song and dance routines prior to opening night.
Performances at Elgin Town Hall will start at 7.30pm, with the show running from Thursday, March 3, to Saturday, March 5, with a 2pm matinee that day.
Tickets are available online at www.elginmusicaltheatre.com and at Mathesons Stores in Elgin's Batchen Street between 9.30am-1.30pm from Monday to Saturday.