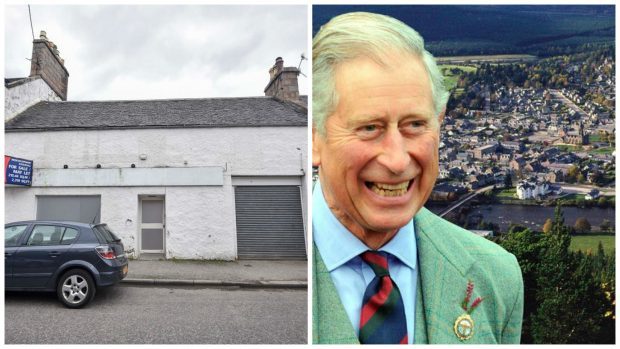 Prince Charles's plans to bring his esteemed Highgrove brand to a flood-hit Deeside community have been approved.
Aberdeenshire Council has approved the redevelopment of the former Co-op on Ballater's Netherley Place into a royal restaurant and shop named the Rothesay Rooms.
And last night it was hoped the venue could be open within weeks.
The plans are part of the Duke of Rothesay's own flood recovery efforts in the village, which was devastated during Storm Frank when the River Dee overflowed at Ballater Golf Club.
More than 300 homes and 60 businesses were left in ruins after the waters rushed through Ballater on December 30 last year.
The duke was also one of drivers behind the speedy clearance and reopening of the ruined Ballater Caravan Park in May.
The application for the Rothesay Rooms was made through Prince Charles' Dumfries House Trust last month.
Half of the development would feature a Highgrove Shop modelled on his English outlets, selling luxury food and products.
A lease has been secured for the former Co-op by the trust at a peppercorn rent, with the profits from the "pop-up" enterprise going to charity.
Deputy executive director of Dumfries House, Kenneth Dunsmuir, said: "The Great Steward of Scotland's Dumfries House Trust's outreach programme welcomes the approval of local authority planning permission for our restaurant and Highgrove Shop in Ballater.
"We are hopeful that the facility will open later this month and are looking forward to welcoming both local people and tourists to the premises.
"We are delighted to be playing our part in helping the Ballater community get back on its feet after the devastating effects of last year's flooding."
Aberdeenshire singer and entertainer, Robert Lovie – who will commentate at today's Braemar Gathering, traditionally attended by the royals – is a local spokesman for the trust and said the venue would be "an amazing thing".
He added: "I think Ballater is getting itself closer to normality after the floods."
Chairman of the Ballater and Crathie Community Council, Jim Anderson, said: "It is brilliant. Anything like that draws tourists into the village which is good.
"Folk seem very positive about it coming into the village, there seems to be a lot of buzz about it."