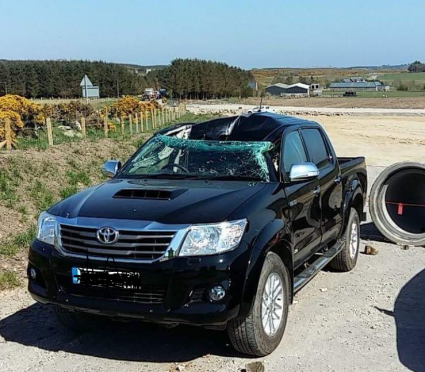 This image shows the damage caused to a construction worker's car after a controlled explosion on the site of the Aberdeen bypass.
Transport bosses launched an investigation after a boulder smashed through the roof of the 4×4 during the blast.
The incident is understood to have taken place in the Rothnick area of the southern section of the £750million bypass during blasting works, close to Netherley Road.
Although a safety exclusion zone of more than 600ft was in place, the Toyota was parked too close and was struck by a flying rock, shattering the windshield and caving in the roof.
Nobody was in the vehicle at the time.
The photograph emerged just weeks after Transport Scotland halted the AWPR project for a four-day safety shutdown. Bosses announced the move after the Press and Journal revealed a 29ft 60-tonne steel cage – used for constructing walls – had collapsed on the Goval Bridge section of the route, near Dyce, prompting an investigation.
Last night, one worker who was working at Rothnick when the accident took place earlier this year, claimed there were health and safety issues across the project's sites.
And he claimed the construction team had been warned against posting images of any perceived issues on social media.
He said: "Stuff like this is happening all the time.
"This place is a joke, the amount of stuff that goes on at this site and doesn't get reported is unbelievable."
A spokesman for Transport Scotland stressed measures had been in place to prevent the accident, and that an exclusion zone had been in place to protect workers and the public.
He said: "At no time has anyone been in danger due to blasting works on the site.
"We are fully aware of this incident which relates to a routine, planned rock blast carried out on the south section earlier this year.
"As part of robust protective measures and controls in place, a 200m (656ft) exclusion zone was placed around the blast site.
"This was effective in ensuring the area was clear of workers.
"Unfortunately, a piece of rock damaged an unattended contractor's vehicle, which had been left within the 200m exclusion zone.
"No rock landed outside the exclusion zone and no-one was injured.
"No members of the public of their property were at risk at any time.
"A full investigation was carried out and procedures were reassessed."