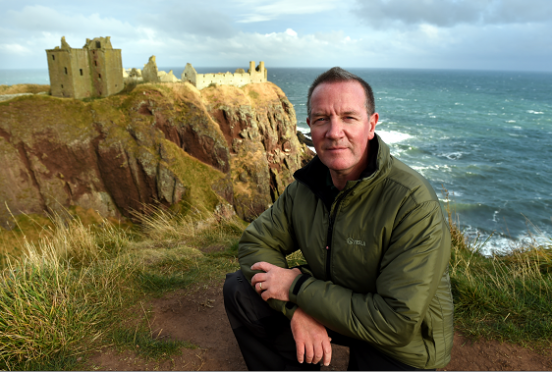 An iconic attraction in Aberdeenshire is due to undergo repair works next week after it was battered by Storm Frank at the turn of the year.
During days of heavy rain and flooding, a landslip at Dunnottar Castle destroyed pathways and heightened concerns over fresh damage being caused at the site.
And now, the popular castle, which featured in the films Brave and Victor Frankenstein, will undergo a series of repairs, commencing on Tuesday.
The property's custodian, Jim Wands, said: "After Storm Frank, the castle was closed for two days, because we were sure there would have been some damage.
"We carried out a number of safety checks, following the storm, to discover there had been a landslide behind the drawing room and a chunk of the rock which the castle sits on had fallen into the sea.
"We were lucky the landslip didn't cause any internal damage, but a path had to be closed as the land had literally fallen away off the cliff.
"After a damage assessment, it was found there needed to be some remedial work, so that is what will be happening over the next few weeks."
Mr Wands added he was thrilled the refurbishment was being carried out to ensure the tourist attraction remained intact.
He explained: "We wanted to get some work carried out as soon as possible to secure the future of the castle.
"Because of this, we have gone with more costly repair works, but we believe that they will last much longer.
"We will be keeping the castle open whilst the works take place, though some parts of the castle may not be accessible, but we want to keep this work to a minimum.
"I'm delighted that the works are going ahead, because repairs like this ensure that the castle remains accessible for future generations.
"It's one of the biggest and best attractions in Aberdeenshire and it is vital that pieces of history like this are looked after as best we can."
Stonehaven community council chairman, Phil Mills-Bishop said: "We are glad the works will be maintaining Dunnottar as the castle is such a huge attraction in Stonehaven.
"The quicker the work can be carried out, the better, and I hope the success of the castle continues in the future."