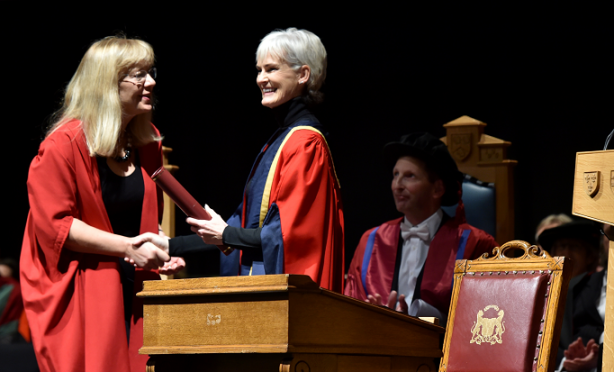 Hundreds of graduates celebrated the fruits of their labours when they bade a successful farewell to Aberdeen University yesterday.
After years of hard work, there was a tangible sense of achievement among the recipients when they filed into the refulgent Elphinstone Hall to collect their degrees which, for many at the ceremony, represent the final stop before they embark on the next chapter of their lives.
A heady throng of graduates gathered in front of their families and loved ones to collect their awards across two ceremonies, in the morning and afternoon.
Among the honorary graduates accepting doctorates were Aberdeen-born environmental campaigner, Sara Parkin, BBC journalist and TV presenter, and university alumni, Nicky Campbell, and Nyovani Madise, a professor of demography and social statistics at Southampton University.
Mrs Parkin, who helped to launch the charity Forum for the Future, gave an emotional speech in which she paid tribute to her late father who had worked at the university.
Proudly accepting her doctorate, she said: "This one's for you, dad."
The graduates were also addressed by Beth Smith, the university's vice-chancellor.
She acknowledged that the past six months had led to an uncertain future for this year's class of graduates.
But she urged everyone in attendance to continue to show "respect" and "kindness" to one another.
She added: "These are not easy times we are all now facing.
"Today is a beginning for you, a beginning in a world that is full of challenges.
"When you come down off this stage you will be a member of what many will consider an elite group and it appears that one of the reasons for the recent increase in divisiveness in society is that many people feel ignored by elites.
"So what we all have to remember, and what has not changed in 500 years, is we are all human beings and we respond well to kindness and respect and that no one deserves to be powerless."