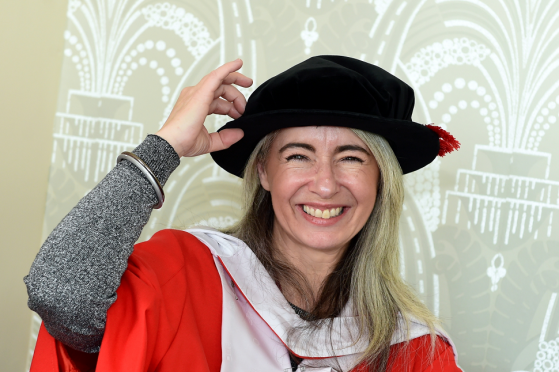 One of the world's most successful solo percussionists was recognised at Robert Gordon University's graduation ceremony yesterday with an honorary degree of Doctor of Music.
Dame Evelyn Glennie, who has performed with many of the greatest conductors, orchestras and artists in the international music realm, joined hundreds of delighted graduates and their families at Aberdeen's Beach Ballroom.
Students from the university's faculty of health and social care celebrated their successes at the historic venue.
Proud mums, dads, sisters, brothers, sons, daughters and other family members enjoyed the warm December weather and ventured to the beach for seaside graduation photographs.
Miss Glennie, who grew up in Aberdeenshire and has been deaf since the age of 12, played a leading role in the opening ceremony at the 2012 Olympics in London, and has more than 80 international awards to her name.
Yesterday, after accepting her degree, she spoke to the Aberdeen crowd of the importance which listening has been to her ongoing success.
And she sa: "Life is full of challenges but we can always find alternative ways of approaching our difficulties which will often lead to new discoveries.
"My career and life have been about listening in the deepest possible sense.
"Losing my hearing meant learning how to listen differently, to discover features of sound I hadn't realised existed. Losing my hearing made me a better listener.
"Receiving this award is a real honour for me.
"I've known about the excellence of this university my whole life, and today it was very reassuring to see that the future is in good hands after seeing the incredible amount of graduates and all the hard work they've done to get to this point.
"For these graduates, the importance of listening will be a key element to their success, especially for the professions that many of these young folk are veering towards, such as nursing, midwifery and so on.
"I feel really honoured to have been able to share this day with them."