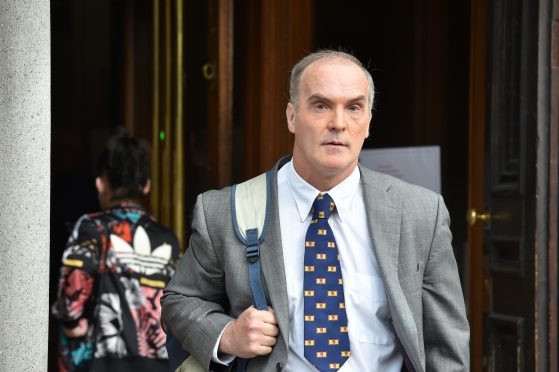 A self-styled political activist sparked a major terrorism investigation after posting tweets threatening to kill the Queen during the Common Wealth games.
In one message Nationalist Alastair Peter Dow said he was "a man at war for my freedom" and that he wanted his "army" to put a bullet in the monarch's head.
Yesterday, the 56-year-old was convicted of causing fear and alarm by putting offensive, abusive and threatening material about Her Majesty online.
Dow had denied the allegations against him and claimed the wording of his messages had been "blown out of proportion".
He said that although he admitted composing the posts they should not have been taken literally, but instead seen as a piece of "rhetoric" reflecting his political views.
Aberdeen Sheriff Court heard yesterday that police were sent to Dow's address in the city's Hollybank Place on July 26, 2014.
They had been responding to "intelligence" which had been received claiming offensive material had been posted on Twitter threatening to harm the Queen.
Giving evidence, Detective Sergeant Martin Thomson said a specialist unit had been set up around the time to combat terrorism during the Commonwealth Games.
He said that because of the content of the messages he was instructed to execute a warrant at Dow's house as there was a "genuine" perceived threat.
The court heard the messages had been sent by Dow to users he had not previously met, however they could be seen publicly on the microblogging site.
One message stated that he wanted to see the "Queen's brains blown out and her body splattered over the ground".
Another said: "As a man at war for my freedom against the imposed monarch I want my army to put a bullet in the Queen's head."
Dow, who represented himself, told the court he had not meant the messages to be taken literally.
He said any reasonable person should have known he did not have an army at his disposal.
He said: "Where did the police expect me to be hiding this army? In my cupboard or in my garden perhaps?"
The court heard he was opposed to the monarch being head of state and that he believed the country should be ruled by an elected body.
He said when he was talking about the Queen in his tweets he was speaking metaphorically about the demise of the monarchy in general.
Dow claimed he may have used "colourful" language while engaging in political debate but denied he intended to cause anyone fear or alarm.
He said: "The tweets were rhetoric, not threats. There was no way that tweet was threatening to the Queen.
"I do not want people to think I am a nutter who is going to attack the Queen. I'm not a terrorist, I am a political activist. It was not a threat."
Dow said he did not hold a personal grudge against "Lizzie" and said: "I am sure she is a lovely old lady and a wonderful granny."
Sheriff Morag McLaughlin said that although he argued his point well, she believed his rants had been "offensive" and that given the timing of the posts she could understand why they may have caused alarm.
Sentence was deferred for background reports and Dow will return to court next month.