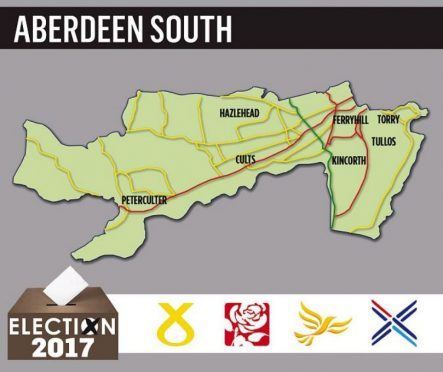 It is a quarter of a century since the Conservatives won Aberdeen South in a general election.
The party has not held the seat since 1997 when Anne Begg was elected amid Tony Blair's landslide.
She remained MP until the SNP's Callum McCaig pushed her into second place two years ago.
The Tories only managed third then, but senior Conservative figures believe there is cause for optimism on June 8.
They point to success in the local elections and to the Aberdeen South and North Kincardine result in last year's Holyrood elections.
Ross Thomson was beaten by the SNP's Maureen Watt.
But the former Aberdeen City councillor secured a 20% increase in the Conservative vote and was elected as a North East list MSP.
For these reasons, the constituency – which comprises affluent suburbs but also some less well-off areas – is among the party's Scottish targets.
Mr Thomson, who campaigned for Brexit, says people are raising a range of issues on the doorstep, including the oil downturn, as well as devolved matters such as education, business rates and NHS Grampian waiting times.
But he insists voters are mostly fed up at the SNP's drive for a second independence referendum.
He adds: "In Aberdeen South we have a real opportunity to stop the SNP and in doing so we can actually send a message to Nicola Sturgeon that we don't want to go through the division of another referendum.
"Voters can provide a reality check to the first minister that she's not speaking for Scotland."
But Mr McCaig, who won nearly 42% of the vote in 2015 giving him a majority of 7,230, rejects this characterisation.
The former Aberdeen City Council leader says no one particular issue is dominating, with people raising a whole host of concerns including around pensions.
He adds: "The reality is this is a more complex election than independence yes or no, Brexit yes and no.
"We are not going to resolve any of these issues in the general election.
"What we are going to resolve is who the MP is and what they are going to argue for. If re-elected I will argue for Aberdeen in whatever constitutional framework it is to be part of the single market.
"People care about the constitution but they care more about whether they have got money in their pocket to pay for their kids and heating their houses."
He says independence is not routinely coming up and certainly less so than concerns about the implications for the area – which voted overwhelmingly for Remain in the EU referendum – of a hard Brexit.
In contrast, Mr Thomson insists this is not being raised with any regularity.
He adds that when it is discussed, it is usually people saying they don't want their vote being used as a proxy for justifying another independence referendum.
The Tory candidate is confident that voters are seeing his party as the "best vehicle" of opposing this.
But Mr McCaig, who has built up a considerable profile at Westminster over the past two years, accuses him of taking them for granted in "one of the worst places in the world" to do so.
He adds: "I'm not going to assume any vote. I'm out twice a day.
"From the front bench, I have led the fight for Aberdeen and the oil and gas industry.
"If re-elected I will continue to do that and I will also fight to make sure people in work, on pensions or on benefits have enough to make sure they can have a decent quality of life."
Mr Thomson's key message is that rather than "shouting from the sidelines" he would be an MP at the "heart of government" with the opportunity to "bend the ear of the chancellor".
Both contenders see the contest as a straight fight between each other.
But Liberal Democrat candidate Jenny Wilson points out her party has been competitive in the seat in the past.
Although its vote nose-dived two years ago, significantly, the party was the main challenger throughout the 2000s and in 1997.
She adds: "It's wrong to describe it as a two-horse race. The Lib Dems were second for a long time. Labour held the seat for a long time. It's really an open playing field.
"I am the only candidate offering a pro EU, pro UK outlook. That is being really well received on the doorstep."
The other candidate in the constituency is Labour's Callum O'Dwyer, an oil and gas engineer from Westhill.
He also describes discussing concerns about Brexit – particularly the direction it is going – and independence on the campaign trail, dubbing it the "story of two nationalisms".
In terms of local issues he emphasises dissatisfaction at the "centralisation of services", as well as complaints about schools and hospitals.
He says: "I'm going to try and be a voice for all Aberdonians. I'm going to fight for raising living standards and wages, for a long-term future for oil and gas."
Acknowledging he faces an uphill challenge, he insists: "I'm giving it all I have got. I don't think I should be written off."
It is, however, likely to be between the SNP and Tories on election day, with a close result on the cards.
In the end it will perhaps come down to which constitutional issue – independence or Brexit – is more of an influencer.
In full: The candidates
Callum McCaig, 32, SNP, politician
Callum O'Dwyer, 25, Labour, oil and gas engineer
Ross Thomson, 29, Conservative, politician
Jenny Wilson, 28, Liberal Democrat, registry officer
2015: Aberdeen South results flashback
Callum McCaig, SNP: 20,221
Anne Begg, Labour: 12,991
Ross Thomson, Conservative: 11,087
Dennis Rixson, Lib Dem: 2,252
Dan Yeats, Scottish Green Party: 964
Sandra Skinner, Ukip: 897 votes
Christopher Gray, Independent: 139 votes