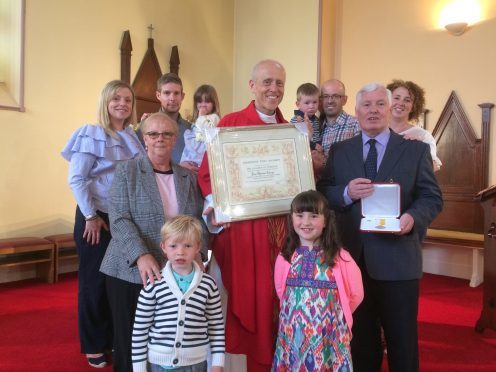 A north-east man has been honoured by the Pope for his work at his local parish.
Tom Cairns received the award while he was thanking Father Mark Impson for his own work at St Mary's Church in Peterhead.
Fr Impson is due to step away from his role at the church to take on a new position at Stonehaven.
And last night, Mr Cairns, a former Marine commando, said he was surprised by the events that unfolded on Sunday.
Mr Cairns found himself presented with the Pro Ecclesia et Pontifice Medal from Fr Impson on behalf of Pope Francis to pay tribute to his work and chairmanship of the Diocesan Safeguarding Advisory Group.
The 67-year-old served in the Commandos from 1968 to 1973 and was a reservist until 1983 before taking on a role with the church.
He had previously worked as a prison officer until his retirement in 2005.
Yesterday, he said he was completely unaware that his work had been recognised. Even his family had kept the award a secret.
Fr Impson and Bishop Hugh Gilbert had nominated him for the medal.
He said: "I'm extremely for their nomination of me for this award. It is an immense honour to have received it."
Fr Impson added: "He has been a great source of support to me, in parish and diocesan roles.
"I consider him both a colleague and a friend. I would also like to say thank you to his wife, Georgette, who supports Tom in the various roles he undertakes."
Bishop Gilbert, of the Aberdeen Diocese, added: "I was delighted that Tom Cairns has been honoured by the Holy Father in this way.
"His contribution to the life of his parish and of the diocese as a whole has been constantly generous, sensible, sensitive, reliable, effective and always combined with humour and humility.
"Our debt to him is great. This honour is more than deserved. We are all enriched by the presence of Tom."