Thousands of people enjoyed tropical temperatures as the "sunshine sports" returned to Oldmeldrum on Saturday.
Temperatures surged into the high 20s as the Highland Games returned to the town's Pleasure Park for its 87th year.
Hammers, cabers and stones soared in the air under the blistering June sunshine as seasoned strongmen and their younger counterparts ushered in the first games of the season.
Watch the pipe band in action
Despite the stifling heat, the pipe bands looked unperturbed as they gathered in their traditional Scots garb to officially open the main event in the afternoon.
The massed bands – with representation from Oldmeldrum RBL, Inverurie, Huntly, Ellon and Kintore – were on hand to welcome this year's official host, Colin Slessor.
Mr Slessor is well known as the star of BBC's The Mart documentary, which follows the day-to-day activities at Thainstone.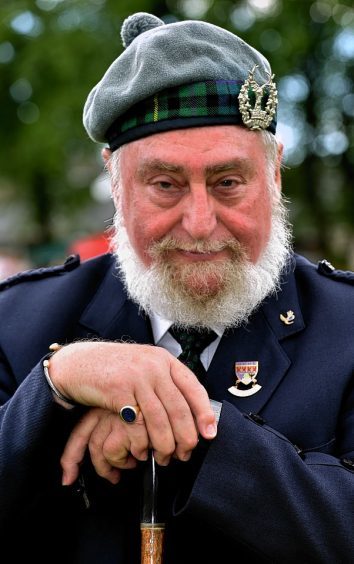 He arrived in true farmer style, on board a tractor, and waved to the crowds as the vehicle drove round the outskirts of the arena and arrived at the main stage.
The "Buchan loon" was met by games chairman Douglas Petrie, who welcomed about 3,500 onlookers to the park.
Mr Petrie hailed the return of the "sunshine sports" after years of weather misery at the event.
It was then the turn of Mr Slessor to take to the stage where he thanked the games committee for giving him the opportunity to be this year's host, which he called a "great honour".
It was then time for the main events to get started, as dancers jigged, runners bolted, jumpers leaped and heavyweights heaved.
And there was a feel-good moment for everyone in attendance as Jonathan Cordiner, of the Kayleigh's Wee Stars charity – set up in memory of his daughter who died of a rare brain tumour – won the 5 Miler race.
As well as the excitement of the athleticism on show, there was also a marquee where the Meldrum and Bourtie Heritage Society exhibited scores of memorabilia and photographs of local significance.
There were also a number of traders selling sweets, home baking and other delicacies all profits going to Breast Cancer Now.
Gordon Forsyth, games secretary, said the organisers could not have wished for a better day.
"It's been a great crowd and great weather," he said.
"You couldn't have bought this weather, it's been fantastic.
"There's been a good atmosphere, Colin Slessor did a great job as host and was well received by everybody.
"It's a local spectacle, there's not that many events in this area that uphold these traditions and that's what this is all about."