The skirl of pipes and the roar of military vehicles reverberated around Aberdeen's main thoroughfare at the weekend as the city honoured its military heroes.
The sun shone during the annual parade down Union Street, which marks national Armed Forces Day.
Servicemen and women of the past, present and future took part in the impressive parade accompanied by a pipe band – made up of members from the Aberdeen University Officers Training Corps, Robert Gordon's College, Lonach, Ballater and District, Kintore and the Gordon Highlanders Association pipe bands.
Hundreds lined the street to catch a glimpse of nigh-on 1,000 military personnel winding their way along the route.
Tanks, four-by-fours and motorcycles were just some of the vintage vehicles taking part.
Vice Lord-Lieutenant Andrew Lawtie, took the salute as the parade passed the city's Town House.
He said: "Aberdeen always embraces this opportunity to say thank you to personnel for their service to the country by turning out in large numbers to watch the parade.
"It's heart-warming to see spectators young and old pay tribute to the British armed forces community for their hard work, dedication and efforts to keep us safe in the UK and across the globe.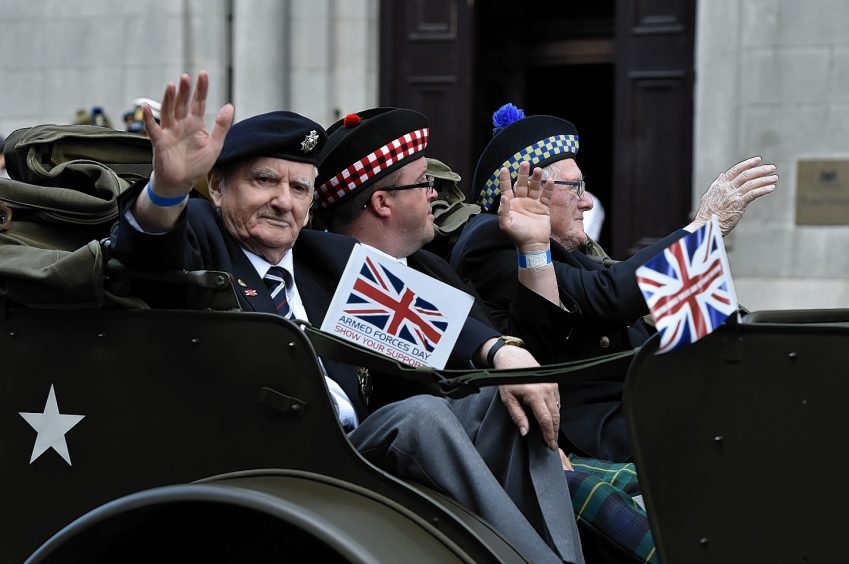 "The pipe bands, marching personnel and military vehicles fill the length of Union Street, creating quite a moving spectacle."
Serving members of the armed forces, veterans – dressed in their old uniforms – and cadets all gathered at Albyn Place at 11am on Saturday for the start of the parade.
Aberdeen's celebrations were one of 300 events taking place across the globe to commemorate Armed Forces Day.
Veterans minister Keith Brown said those who had served in the armed forces were a "significant asset" to the country.
He said ministers were "working hard" to help veterans on issues such as healthcare, housing and education.