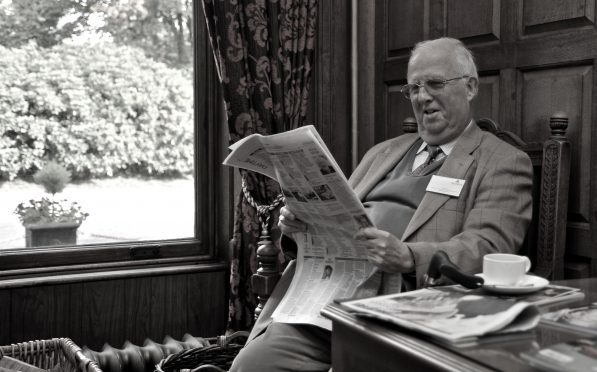 A "universally liked" former company secretary of one of Europe's top international investment management groups has died aged 70.
Brian Ross, who was one of the first ten employees of Aberdeen Asset Management when he joined the company, died on Tuesday, July 11 following a short illness.
Born on January 6, 1947 and brought up in Perthshire, Mr Ross enjoyed an extensive and successful career in the industry that took him around the world.
In the mid-1960s, he joined Bank of Scotland at the St John Street Branch in Perth as a clerk, and by 1971, he was transferred to the bank's head office in Edinburgh to take on a new role in business development.
While in his new department, Mr Ross focused a great deal of effort on the rapidly developing North Sea oil and gas industry, and in 1976, he transferred to the bank's first overseas representative office in Houston, Texas, to further develop growing links with American oil companies and related businesses.
Just before he returned to Scotland, he was given the "Freedom of the City of Houston", an honour which he cherished.
Mr Ross first joined Aberdeen Asset Management in March 1987 – when the company was less than four years old – and worked alongside Martin Gilbert, chief executive, as well as Ronnie Scott Brown, George Robb, Hugh Little, Andrew Laing, Bill Rattray, Hugh Young and Colin Crosby.
He remained at the company for more than 15 years, and held the position of company secretary prior to his retirement in 2002. His previous role had been head of compliance.
Mr Gilbert, chief executive of Aberdeen Asset Management said: "Everyone loved and respected Brian – he was universally liked.
"He had time for everyone in the company and everyone had time for him.
"He was a consummate professional, but one who had no airs and graces.
"Not only was he a much-valued and respected employee, Brian was a friend to many of us, especially those of us who shaped Aberdeen Asset Management's formative years.
"However, his reach was throughout the company and many considered him as much a friend as a colleague."
Mr Ross had many friends across the north-east and Perthshire, and in Blairgowrie, where he settled after retirement.
Outside of work, Mr Ross spent his time pursing his interests in travel, music, horses, community affairs and languages.
His interest in Scottish country dancing led him to become a teacher to his circle of acquaintances, and he was subsequently in much demand at parties.
Mr Ross, known to his friends as "Uncle Brian", described himself as an "unclaimed treasure" and remained a bachelor.
Mr Gilbert added: "We all hold fond, and very happy memories of a truly lovely man who helped shape Aberdeen through its formative years and through the millennium.
"He will be truly missed."