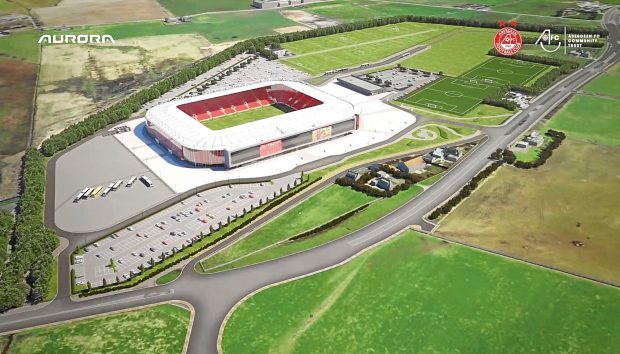 Aberdeen Football Club hopes to have its new multi-million pound stadium dream approved in time for Christmas.
The application for the £50million sports centre, training academy and stadium scheme at Kingsford was due to be debated by councillors last month.
But the club pulled the application at the 11th hour after sources indicated council planners were going to recommend refusal.
Neighbouring Aberdeenshire council has voted to refuse the plan but their vote will only be on an advisory basis.
Last night the club said they hoped to bring the application back to the December council meeting.
But a high placed council source said the item may now struggle to be included on the agenda after officers held back other business in October so the stadium could be debated at length.
The opposition No to Kingsford group are also building up a war chest for a legal challenge should the plan get the go ahead.
Club chairman, Stewart Milne, said: "Throughout this process, we have endeavoured to work constructively and co-operatively with Aberdeen City Council and have met every request for additional information.
"Our ambition is to be a top 100 European Club and to drive maximum socio-economic benefits into our communities through the power and passion of football.
"This delay is obviously disappointing, But it's crucial that we have the best chance of getting the right decision for the club, the city, the region, our fans and the thousands of individuals from all communities who benefit from the activities of the trust.
"Our Aurora campaign has demonstrated the incredible support for the club's proposals. This time and in this location we have a once-in-a-generation opportunity to be truly ambitious for our club and our city. This is something we cannot afford to turn down in economic terms, in sporting terms and in social welfare terms."
If the application is debated in December, the club hopes to get started on site early next year, with the facilities ready for the 2020/21 season.
A spokesman for No to Kingsford said: "NKS would welcome the determination of this application and believe it is highly unlikely that the application will be approved by Aberdeen City Council.
"The application is contrary to local and national planning policy and NKS will seek to take this application to Judicial Review should city councillors, despite the multiple flaws in the application, approve it."
An Aberdeen City Council spokeswoman said: "The planning application is due to be considered at a future meeting of the full council. No date has been scheduled as yet."