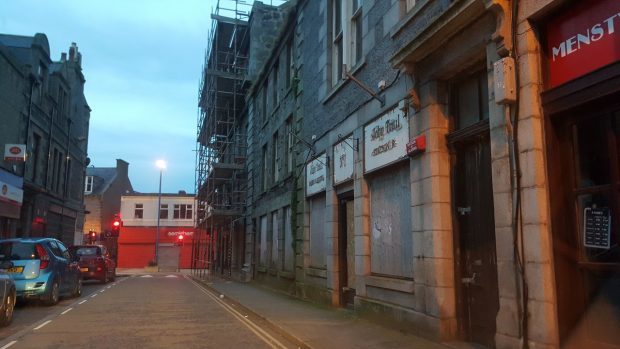 A public consultation event has raised fresh concern about the future of a fire-hit Fraserburgh property.
The former John Trail bookstore in the town's Mid Street was destroyed in a massive blaze in 2009 and has lain empty ever since.
Now the group behind the renovation of Portsoy's sail loft wants to breathe new life into it by converting the remains of the building into a bunkhouse for tourists.
And yesterday, the North East Preservation Trust hosted a public consultation event in the port's Dalrymple Hall for local people to provide their own views.
Concerns were raised, however, that the community would be better served by other ventures.
Fears including a lack of parking spaces in the town centre for a bunkhouse and the potential for the venture to instead be used to house the homeless were brought up.
Others, meanwhile, wanted the property to instead become flats for new teachers or a casino.
Last night, a spokeswoman for Community Enterprise, which had organised the consultation event, said a final decision has yet to be made about what will happen to the property.
She added: "The Trust is asking people for their ideas about what they would like to see happen in the building.
"No decision has been made.
"It does not own the building at this point."
The renovation of the John Trail building is earmarked as a "priority project" in the regeneration of Fraserburgh by Aberdeenshire Council.
Since 2015 it has been trying to find a new use for the building, either as a commercial premises or housing.
Because no-one now owns the building, the council would have to issue a compulsory purchase order to begin any refurbishment.
At the time of the fire, it had been the hopes of then owner Ian Thomson to revive the business.
But companies run by him have since dissolved.