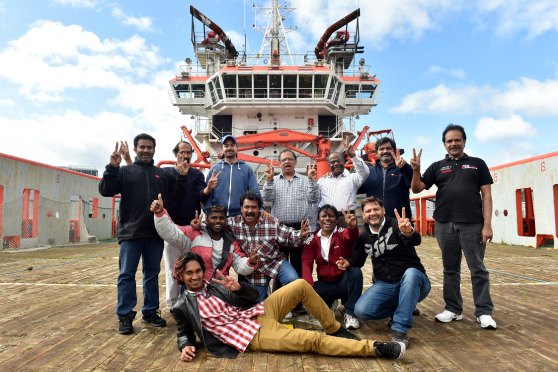 The last of the seafarers on board the marooned Malaviya Seven vessel will finally fly home to India today.
A routine inspection in June last year revealed the Indian ship's crew had not been paid in months, and the ship has been stuck in the north-east ever since.
The 12 men on board the shiphad been unable to fly home to their families due to fears they could forfeit the more than £612,000 owed to them by the ship's owners GOL Offshore, an Indian company currently in liquidations.
But in September, permission was granted by Aberdeen Sheriff Court for the Malaviya Seven to be sold in order to recoup the wages owed to the crew, prompting half of the staff to fly home.
The remaining seamen have been stuck on board since the news of the sale to ensure the ship is maintained, with some allowed to travel home earlier this month when a buyer was found.
But this morning, the last four crewmen left the ship and boarded flights to India from Aberdeen Airport – and it is hoped the sale of the ship will be finalised within weeks.
Port Chaplain Doug Duncan, from the Apostleship of the Sea, has been one of the many individuals supporting the Malaviya crew throughout their time in Aberdeen Harbour.
He said: "It has been an ordeal for them, but at the end of the day, the boat will be sold, and they will be paid, and they'll be home in time for Christmas, and for that reason they couldn't be happier."