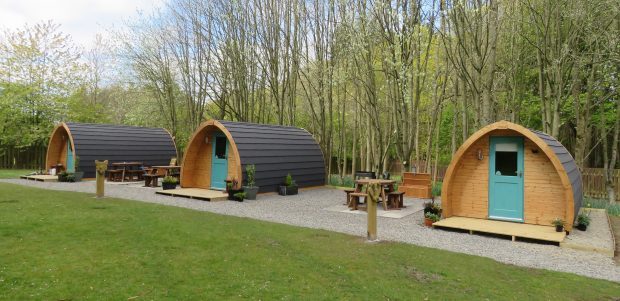 A major funding award has helped boost business at a north-east community enterprise.
Aden Caravan Park was awarded £32,000 by the Leader programme, a scheme that aims to boost projects in rural areas.
It meant an upgrade of the facility, including CCTV and wifi and three new glamping pods.
The owners of the caravan park, which is based at Aden Country Park in Mintlaw, have said that since the revamp their accommodation has been fully booked and the extra money raised helped keep the facility looking its best.
Liz Scott, a member of the Buchan Development Initiative, who own the caravan park, said: "We decided on glamping pods as they would provide affordable family accommodation for visitors.
"In addition, our existing facilities needed to be upgraded to ensure that we are attractive to our visitors.
"Since the glamping pods opened, they have been fully booked.
"It has brought in a lot of additional revenue that is being reinvested in other park facilities and the Buchan Development Initiative.
"We couldn't have done it without the Leader funding programme."
Duncan Leese, chairman of the North Aberdeenshire Leader action group, said:  "This is a great example of the kind of community enterprise that the Leader programme can support.
"We would love to see more of this kind of project applying since it shows wider benefits to the local community."
The Leader initiative is an EU and Scottish Government funding programme delivered by Aberdeenshire Council.
More than £1million has been handed out to projects across the north-east, with another £2million still available.
Organisers are looking for more projects to apply for it with a particular focus on tourism, farm diversification, retail and community development projects.
Applicants must be able to back up their grant bid with a well-developed business plan and other criteria such as planning consent and project management.
Each applicant will be supported through the process by a Leader project officer, who will ensure that the project is supported throughout the process.
For more information on Leader funding and how it could help your community project, contact nalag@aberdeenshire.gov.uk