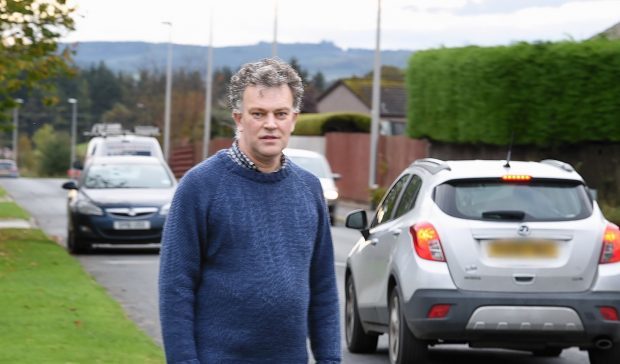 Fresh calls have been made for Aberdeenshire Council to stamp out "severe" speeding on a north-east road.
Newmachar residents have been calling for measures to encourage motorists to slow down on the 30mph Corseduick Road and Hillbrae Way for a number of years.
As far back as summer 2016, monitoring studies by the local authority revealed the average speed of drivers on both routes was in excess of 40mph.
A further study was due to take place last February, but has never been carried out and no action has subsequently been taken.
This prompted Councillor Martin Ford, East Garioch, to bring the issue to the area committee meeting tomorrow.
Roads officers have prepared a report, ahead of the Garioch committee, which advises that the best action going forward would be to widen both routes to include cycle lanes, in the hope that drivers slow down.
A report by Stephen Archer, director of infrastructure services, stated: "Our preference is to reduce the overall width of the road by introducing cycle lanes thereby changing driver perception.
"A revenue stream for these measures still has to found and it is unlikely to be introduced until next year. In the meantime, we will continue to liaise with the police on this matter."
Mr Ford said he hoped the authority would now address the problem in the village.
He added: "Residents have been calling for this for a number of years and, latterly, we have had data that confirms what everyone locally already knows, that there is a severe speeding problem.
"Clearly, I wanted the council to put in place measures to stop this long before now and they haven't, so that's why I brought forward the issue as a report to make sure that something is done about it.
"In last year's budget, there was a new line of funding for traffic calming and speed reduction, for £150,000, this was asked for by Digg (Democratic and Independent Green Group) and it was specifically for issues like this."
Meanwhile, the council is proposing the introduction of 20mph speed limits at a number of locations across the Garioch area.
The proposals have been tabled as a result of a number of new housing developments springing up in Inverurie, Echt, Kemnay, Kingseat, Newmachar, Sauchen and Westhill.
The roads service has recommended reducing speeds in these areas to increase safety for the growing number of pedestrians and cyclists.
The area committee will discuss the plans on Tuesday.
The following streets are in line for a reduction:
Echt
Inverurie
Conglass Field Gardens and Green,
Portstown Road, Crescent and Park
Gadieburn Place, Drive and Circle
Peregrine Drive
Osprey Rise
Lochter Drive, Park and Close
Osprey Heights
Threave Circle, Wynd and Place
Boynds Drive, Brae and Crescent
Greentrees Grove and Gardens
Corsmanhill Drive
Pine View
Beech View and Grove
Corsmanhill Avenue, Place, Grove and Way.
Sycamore Grove and View
Kemnay
Kingseat
Newmachar
Rowan Avenue
Larch Grove
Sycamore Gardens
Oak Way
Beech Drive
Gean Place
Sauchen
Westhill
Keirhill Way
Skene Crescent and View