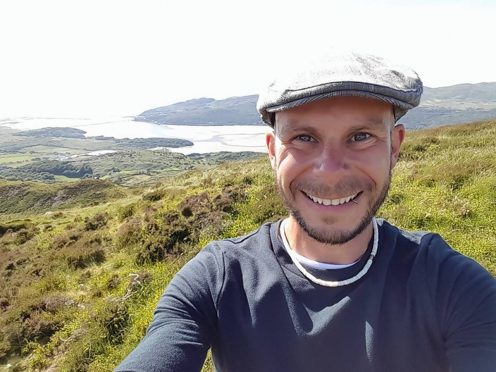 The sister of a kayaker who drowned off the Moray coast has spoken of her hopes that his death will help save the lives of other people through her new charity and campaigning work with the RNLI.
Mother-of-four Ellie Jackson has just been awarded charity status for Plan B which was launched in the aftermath of her brother's death.
This week marks the first anniversary of the tragedy which claimed the life of Dominic Jackson after he set off from Portsoy harbour on February 4.
Originally from Sussex, the 35-year-old gardener had been living in Fettercairn and had recently taken up the adventure sport.
When he failed to return home the next day, his family and friends became concerned and a massive sea and coastal search was launched.
Two days later, his kayak and mobile phone were found followed by his body which was recovered near the beach at Lybster later that week.
Ms Jackson, who was living in Australia at the time, has since returned to live in the UK with her family in order to set up the charity and help prevent anyone else going through the same torment.
The initial aim of Plan B was to buy personal locator beacons so that they could be left at major kayak rental shops to be hired out as a piece of essential kit.
"It has grown arms and legs since then", said Ms Jackson. "We are now looking at making the site a bit like a trip advisor for outdoor enthusiasts. It will have (information of) hire places, but most importantly it will have local knowledge of sea conditions. If Dom had known what to expect, he might not have set out at all that day.
"I really believe that Dom would still be with us if he had been wearing one of those beacons," said Ms Jackson, "if I can do anything – it will be to prevent this happening to another family."
The charity has now raised more than £20,000 and has attracted backing from across the UK, including support from UK Chief Scout Bear Grylls who has endorsed the charity website.
Ms Jackson, and her father Jeremy have also made some films with the RNLI to raise awareness of the dangers of kayaking in the sea.
Looking back on their "monumental" year, Ms Jackson finds it difficult to look at pictures of her happy family days, adding: "We had no idea what was coming. It's made us realise that you have to make the most out of life and try and cram as much in as possible."
One of the RNLI videos produced by the family can be viewed here:
https://rnli.org/news-and-media/2017/october/18/sister-of-kayaker-who-died-at-sea-urges-others-to-respect-the-water