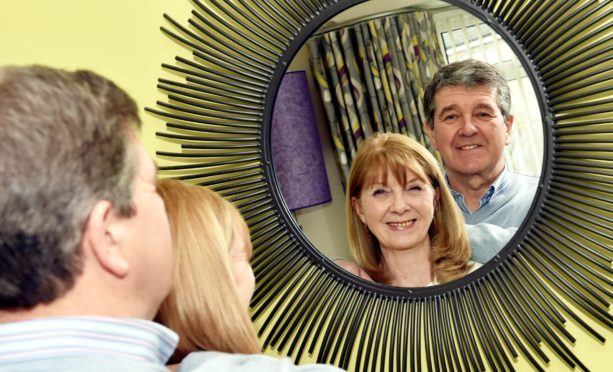 Ronnie Farquhar has been a long-standing supporter of the work undertaken by Friends of Anchor.
As a construction coordinator with Global Energy in Dyce, he has been only too happy to sponsor a table at the organisation's annual ball.
Yet, as he said this week: "You give money to a charity, hoping you will never have to use its services yourself, but life had other plans for me."
About 12 months ago the 66-year-old from Aberdeen travelled to Dublin to celebrate his wife's birthday and returned to Scotland in high spirits.
He had known for the previous few months, however, that all might not be well with his health and a subsequent visit to the doctor confirmed his suspicions.
Mr Farquhar said: "I was having problems in swallowing and I was pretty sure something was wrong, but I never for one moment thought it would be cancer."
Though the diagnosis of oesophageal cancer was a shock, he said the way in which everyone around responded had been "really positive".
"I attended ward 310 at Aberdeen Royal Infirmary for five three-week sessions of chemotherapy and then another course of treatment," he said.
"The and the doctors told me the tumour was reducing.
"In advance, I had heard many horror stories about the side effects of chemotherapy and radiotherapy but I was very lucky because my body seemed to cope well with it.
"After my diagnosis, there was a lot of concern and anxiety from my family and close friends, but I feel it brought us together more.
"They all showed a lot of support to ensure I was always upbeat and positive and this meant my life changed very little.
"I was still able to go on walks, play golf and do other things.
"I will probably never appreciate the depth of worry the news caused my wife and children but everybody pulled together to bring me through the experience."
Mr Farquhar is among the 24 male models who will take to the catwalk for Brave at the Beach Ballroom on May 11.
And his family will be there to watch him participate in the proceedings, which he admits will be a step into the unknown.
He has nothing but admiration for the professionalism and quality of care provided by the staff at ARI and Friends of Anchor.
"The nurses were very helpful," he said.
"No request seemed to be a problem and the treatment days were well organised and carried out efficiently.
"Throughout it all, I was excellently looked after with regard to scans, discussions with my doctor and access to my nominated nurse, Rosie Kitching, who was very knowledgeable and gave me loads of good advice.
"I still have to get a scan, but FoA have been brilliant and you just keep waiting for good news."
Mr Farquhar appreciates that he can no longer take anything for granted but he is already relishing the opportunity to join the Brave crusade next month.