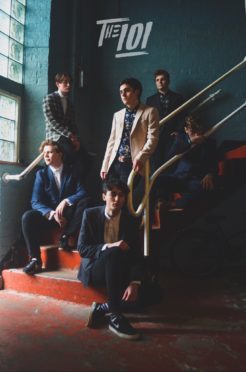 A young Aberdeen band has secured hundreds of pounds from a national culture fund to help them achieve their dreams of a career in the music industry.
The 101, a five-piece Indie-pop funk group composed of schoolfriends who met at Robert Gordon College, have received £500 from the Nurturing Talent Fund.
It is provided by the national agencies Creative Scotland and Young Scot to help support young people to make their mark.
The band members, who are all 19 years old, used the cash to pay for a professional recording of their new single Living in a Movie, which is due to be released on May 18.
Lead singer Dexter Fawcett said their sound is influenced by a wide variety of artists from Pink Floyd to The Beatles.
Mr Fawcett said: "We were able to pay for a really nice studio to record in down in Edinburgh, and allowed is to get a really good, professional mix and master for the single.
"We applied through the funding through Young Scot, and they got back to us a few weeks ago just before we went into the studio and told us they would pay for it, which was absolutely amazing news.
"We're so grateful for this opportunity, we started out as a cover band doing Another Brick in the Wall by Pink Floyd, but we had no idea that after a year we would be recording in a professional studio, so we're really pleased to be able to make the music we want to thanks to this funding."