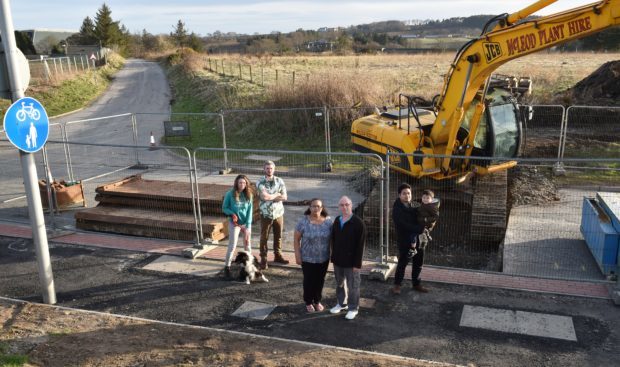 City residents living next to the site where the new exhibition centre is being built returned home from work to find their route was blocked by a huge hole on the road.
Homeowners on Walton Road have already endured months of disruption on routes surrounding their properties as building works on the new AECC continues.
But now they have to deal with driving down a pavement to reach their houses because they have to negotiate their way round works on a road leading to their street.
Contractors Robertson had sent out letters to warn residents about the closure of one side of the road which came into place on Saturday to allow for a new junction to be completed.
However, when resident Donald McPherson tried to leave his home on Monday morning by driving onto the other end of Wellheads Road he was met by workers from another construction firm who were about to start digging the "very big hole".
Mr McPherson approached the men to tell them that they would be cutting off any vehicular access to his street if they went ahead with the work.
He said: "The guy actually went away and phoned someone and held off for five hours, I thought they had perhaps seen sense. He was quite apologetic.
"But then they got a call telling them to just carry on. It's ridiculous. We can't get our cars in or out unless we drive over the pavement.
"We have been told by the workers that they will be there for two weeks."
Another resident, Kieran Wall, agreed with his neighbour's concerns and added: "It is a totally ridiculous situation and also dangerous as there is no access to emergency services – they just don't seem to care.
"It appears that Robertson's have permission to close their section but a secondary set of road works has been organised with no consideration of how residents are to access their homes.
"Robertson's seem to be as unhappy about this as we are as it will delay their works."
Mr Wall has recently started up his own brewery business from his home and now fears deliveries from his suppliers will be unable to get through.
Roberston construction workers came to the aid of homeowners by laying a temporary grit surface on the pavement to make it easier for motorists to get round the hole.
A spokesman for Robertson said: "Robertson Construction Group started work on Wellheads Drive on Saturday and then a separate contractor commenced their own works in an adjacent area – working on an unrelated site for a client not connected to the AECC – on Monday.
"At this point a clash with access was noted and temporarily resolved the same afternoon in order to minimise disruption. A new access arrangement was formed yesterday allowing all residents to come and go from Walton Road as required."