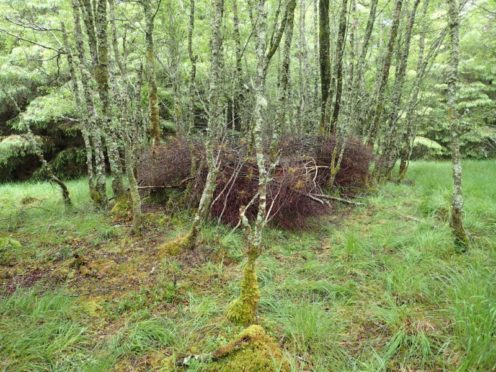 A north conservation organisation has created a wildcat rescue and rehabilitation facility on one of its reservations in a bid to save the critically endangered species.
Highland Titles, best known for selling informal peerages for plots of land, partnered with Wildcat Haven to construct the enclosure, believed to be the first of its kind in Scotland.
Both organisations seek to boost the cat's numbers by keeping as many as can be managed in a setting as close to the wild as possible.
According to the charity wildcats face a variety of threats in the wild such as snaring, poisoning, road accidents and dens being disturbed.
That is where the new enclosure comes in as it will be used to rehabilitate injured wildcats or abandoned kittens.
It is located in a "quiet corner" of the Duror reserve in Argyll, according to estate manager Stewart Borland.
He said: "What is most exciting is if we get kittens then they will grow up believing they are in the wild. Food will appear for them but they would never see us."
It was built over the winter despite "horrendous" weather and is designed to be a safe haven for vulnerable wildcats by keeping them safely inside and predators outside.
It will not be open to the public and was chosen and built with a wildcat's needs in mind to provide multiple secluded den sites, forest, a stream and open grassland areas.
Mr Borland said: "It is purely a conservation project. A wildcat should not be in a cage. It is not a zoo for people to gawp at the animals – it is to reintroduce them to the wild."
It is estimated there could be as few as 35 wildcats left in the wild in Scotland with mating with feral cats seen as one of the key threats to the species.