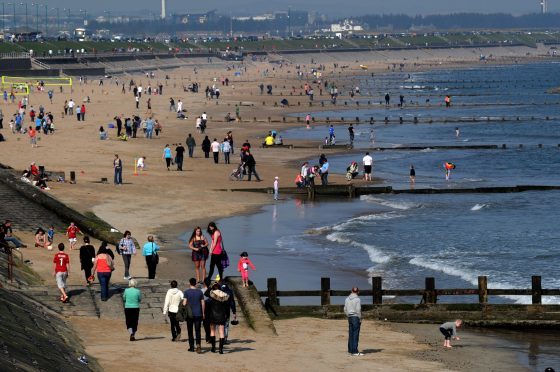 An Aberdeen man says pedestrians must be better protected after a close shave with a speeding cyclist while on a sunny evening walk he thinks could easily have killed him.
John Murphy, 78, was standing on the upper pavement at Aberdeen beachfront with his wife on Monday evening when he was startled by a man rushing past them on a bicycle.
He said: "Thankfully I was about two feet in front of my wife (so there was a gap) when an absolute moron cycled between us.
"He must have been going about 25mph.
"I'm 78. If he had hit me it would have probably killed me."
Mr Murphy said the cyclist did not apologise or even slow down following the near-miss, which he fears could have been catastrophic.
He wants to see more measures in place to keep people safe.
"Why is it okay for people to cycle on the pavement?" he asked.
"Kids I understand, but not adults when they are going at that sort of speed."
Ward councillor Dell Henrickson said: "I am concerned to hear about a cyclist and pedestrians having a near miss on the upper footpath at the Beach Esplanade.
"It's extremely fortunate that no one was seriously injured, but we can't be complacent about this.
"Cyclists should not be using footpaths for their own safety as well as that of pedestrians.
"Most cyclists in the city are considerate, but the few reckless people like this can give others a bad reputation.
"I shall be asking the council to look into ways of reducing such incidents throughout the city and, in particular, at the beach area."